/

/

MO-400 Outlook Associate - Office 365 & Office 2019 - Englische Version
MO-400 Outlook Associate

Office 365 & Office 2019 - Englische Version
Verlassen Sie sich auf TEST4U, weil es Folgendes bietet:
Vielfalt - 244 Übungen für MO-400 Outlook Associate
Schulungsstunden - Kaufen Sie die Stunden für das Training nach Ihren individuellen Bedürfnissen
Unbegrenzte Tests - Im Gegensatz zu Konkurrenzsoftware gibt es keine Begrenzung für die Dauer einer Frage
Klassifizierung - Verschiedene Unterkategorien ?
Feedback - Sofortige Auswertung der Antworten ?
Hilfe - Integrierte Videolösungen ?
Umfassung - deckt den Zertifizierungslehrplan zu 100% ab
Angemessenheit - Gleiche Umgebung wie die Prüfungen
Flexibilität - Auf jedem Computer üben
Updates - Zugriff auf die aktualisierte Version
TEST4U Outlook Associate (Office 365 und Office 2019): Prüfung MO-400
Die neue Microsoft Office Specialist Outlook Associate-Prüfung (Office 365 und Office 2019) wird laut Certiport in Kürze (Q3 2019) verfügbar sein!
Die neue Version von TEST4U für MO-400 Outlook Associate ist verfügbar.
Die neue Version von TEST4U ist vollständig kompatibel mit der neuen MO 400-Prüfung (Office 365 und Office 2019):
TEST4U deckt zu 100% die Prüfungsziele ab, sodass Sie zu 100% bereit sind, die Outlook Associate-Prüfung (Office 365 und Office 2019) zu bestehen.
Die TEST4U Schulungs- und Prüfungsumgebung enthält das Format für mehrere Projekte (Multi-Pojekt), das Certiport seit den MOS 2016-Prüfungen übernommen hat.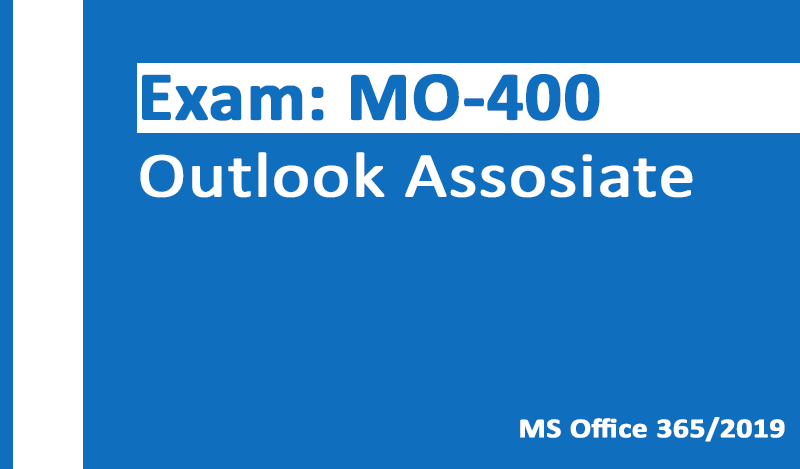 Outlook Associate MO-400-Prüfung
Wie Certiport offiziell angekündigt hat: "Die Microsoft Certified Outlook Associate-Zertifizierung demonstriert die Kompetenz, den Nachrichteninhalt des Outlook-Benutzeroberflächenformats anzupassen, grafische Elemente zu erstellen oder einzufügen sowie E-Mails und Besprechungsanfragen zu senden und darauf zu antworten. Die Prüfung befasst sich mit der Verbesserung der beruflichen Korrespondenz, der Erstellung von Kalendern und der Planung von Terminen. Zu den Anwendungsbeispielen gehören das Koordinieren von Gebäuderessourcen, das Senden von Nachrichten für Marketingkampagnen, das Planen von Mitarbeiterbesprechungen und das Zuweisen von Besprechungsaktionselementen.
Eine Person, die diese Zertifizierung erworben hat, verfügt über ungefähr 150 Stunden Unterricht und praktische Erfahrung mit dem Produkt, verfügt über nachgewiesene Kompetenz auf Branchenebene und ist bereit, in den Arbeitsmarkt einzusteigen. Sie können die korrekte Anwendung der Hauptfunktionen von Outlook demonstrieren und Aufgaben unabhängig ausführen. "
Wie kann ich die Outlook Associate MO-400-Prüfung bestehen
Vertrauen Sie auf das strukturierte, prüfungsorientierte Training, das die erfahrenen TEST4U-Instruktoren durchgeführt haben.
Das TEST4U-Training soll Sie Schritt für Schritt auf Ihrem Lernweg führen:
Schritt 1. Ermitteln Sie mit dem TEST4U Benchmark-Test Ihr vorhandenes Qualifikationsniveau.
Schritt 2. Trainieren Sie in den - 242 live in Applikationsübungen für die Outlook Associate MO-400-Prüfung..
Schritt 3. Führen Sie den TEST4U-Abschlusstest durch, um Ihre Prüfungsbereitschaft zu überprüfen.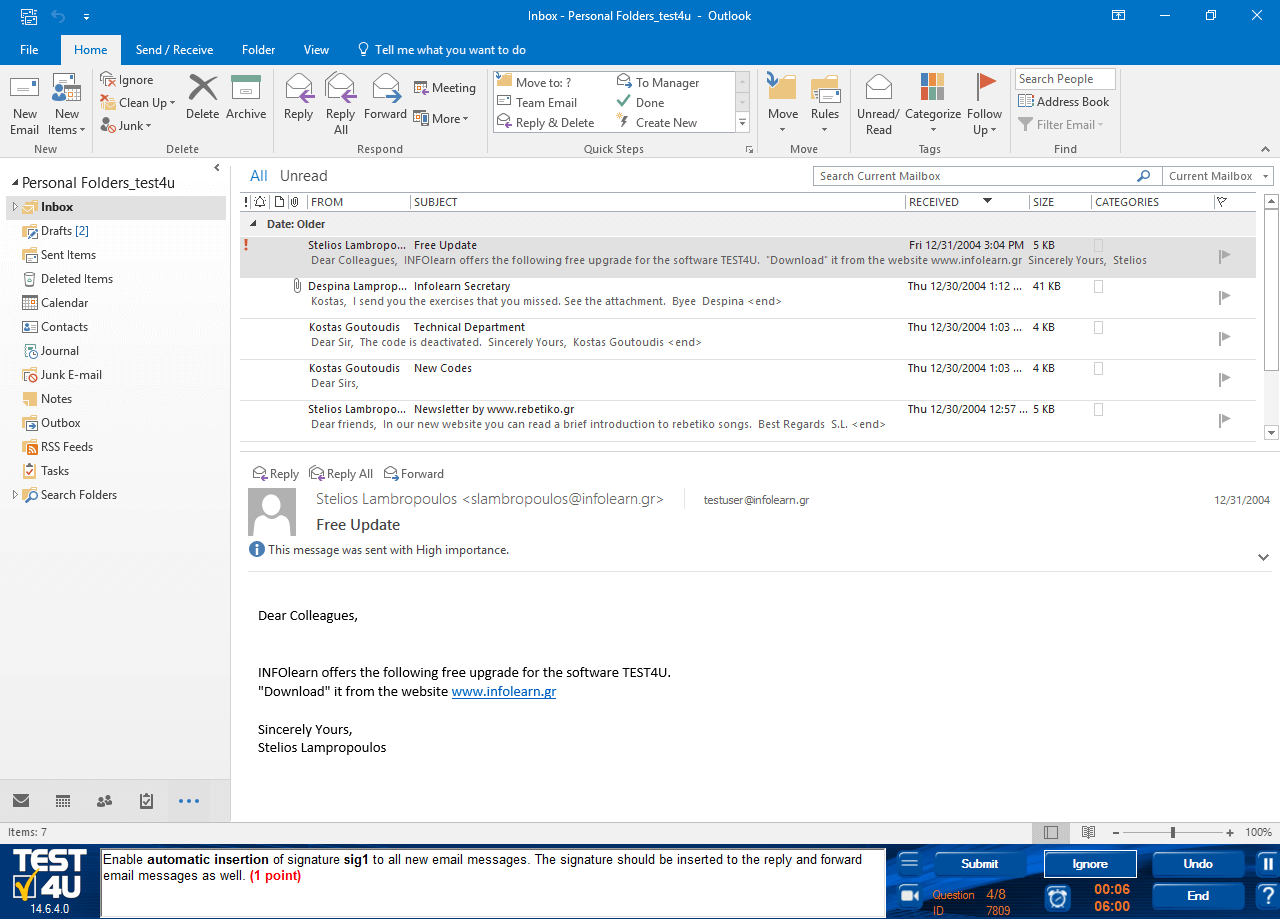 Certiport erwähnt
, dass "Microsoft Office Specialist Zertifizierungsprüfungen ein leistungsbasiertes Format verwenden, um die Kenntnisse, Fähigkeiten und Fertigkeiten eines Bewerbers mithilfe der Microsoft Office 365- und Office 2019-Programme zu testen:
Die Anweisungen für Prüfungsaufgaben des Microsoft Office Specialist-Programms enthalten im Allgemeinen keinen Befehlsnamen. Beispielsweise werden Funktionsnamen vermieden und durch Deskriptoren ersetzt. Dies bedeutet, dass die Bewerber den Zweck und die allgemeine Verwendung der Programmfunktionen verstehen müssen, um die Aufgaben in jedem Projekt erfolgreich ausführen zu können.
Das Prüfungsformat des Microsoft Office Specialist-Programms umfasst wie in der vorherigen Version mehrere Projekte, wobei die erweiterten Tools, Funktionen und Features der neuesten Programme verwendet werden."
Sicher fühlen!
Wir haben unsere Erfahrung seit 2003 genutzt und all dies berücksichtigt, bevor wir die neue Prüfung MO-400 für TEST4U Outlook Associate (Office 365 und Office 2019) entwickelten.
Verwenden Sie TEST4U zum ersten Mal?
Sobald Sie sich in der TEST4U-Umgebung befinden, werden Sie feststellen, dass sich TEST4U stark von anderen E-Learning-Kursen unterscheidet. Mit der Prüfung MO-400 für TEST4U Outlook Associate (Office 365 und Office 2019) können Sie aktiv am Lernprozess teilnehmen, anstatt sich nur eine Videolektion mit geschlossenen Fragen anzusehen.
Die Prüfungen sind leistungsabhängig, so dass die Beantwortung von Multiple-Choice-Fragen nicht zur Konsolidierung beiträgt. Sie müssen lernen, wie Sie Aufgaben ausführen, und Sie müssen sofort ein Feedback dazu erhalten, wie Sie vorgegangen sind. Aus diesem Grund haben wir Fragen mit den eigentlichen Aufgaben entwickelt, die Sie ausführen müssen, und Schritt-für-Schritt-Videolösungen entwickelt, um die richtige Vorgehensweise für jede Frage zu demonstrieren.
Mit der Prüfung MO-400 für TEST4U Outlook Associate (Office 365 und Office 2019) decken Sie 100% aller objektiven Domänen ab:
Outlook-Einstellungen und -Prozesse verwalten
Nachrichten verwalten
Zeitpläne verwalten
Kontakte und Aufgaben verwalten
Auch wenn Sie ein erfahrener Benutzer sind, werden Sie Ihr Wissen auf die neueste Version von Microsoft Office aktualisieren.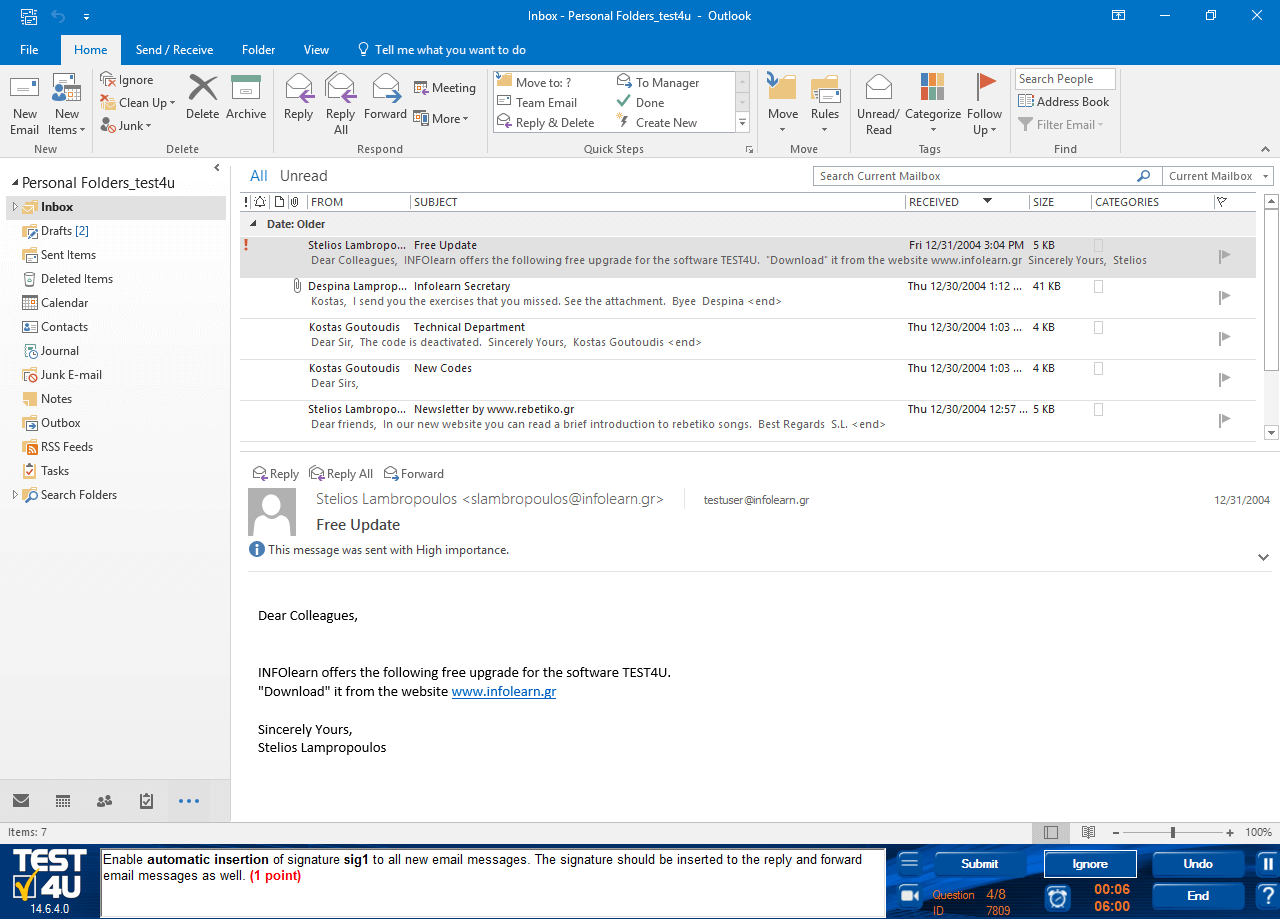 TEST4U ist kein weiteres E-Learning-Material. TEST4U ist anders.
Wir haben unsere jahrelange Erfahrung mit Schulungen und Unterrichtstechniken in TEST4U einfließen lassen, was dazu führt, dass die Prüfung MO-400 von TEST4U Outlook Associate (Office 365 und Office 2019) den Lehrplan der Certiport Certification Body (Prüfung: MO 400) zu 100% abdeckt.
TEST4U bietet Zugriff auf die neueste aktualisierte Version des von Ihnen ausgewählten TEST4U-Moduls, einschließlich aller Funktionen (neue Fragen, Updates usw.).
Laden Sie die Prüfung MO-400 für TEST4U Outlook Associate (Office 365 und Office 2019) herunter, die Tests und Übungen für die Praxis enthält.
Seit 2003 haben mehr als 700.000 Kandidaten TEST4U für ihre Prüfungsvorbereitung vertraut. Seien Sie der Nächste.
Minimale Systemanforderungen
Prozessor: mindestens Intel Pentium® 4
Arbeitsspeicher: 512ΜΒ+ RAM
Festplattenspeicher: 1-10 GB
Anzeige: 1280x720 minimale Bildschirmauflosung (Größe von Text, Apps und anderen Elementen 100%)

Betriebssystem: Windows® 10 / 8.1 / 8.1 / 7 (neueste Servicepacks - Region Format: Englisch (Vereinigte Staaten))
Internet Explorer: 7.0+
MS Office Outlook 365 oder 2019 - Englische Version (Voll funktionsfähig) muss installiert sein - Es muss nur eine Version installiert sein
Internet: Breitband Internetverbindung


Check the
quality
of our questions
Enter your e-mail address below and we will immediately send you 27 questions
Syllabus
Dieses Produkt umfasst den folgenden Lehrplan. Sie können die behandelten Abschnitte sowie die Anzahl der Fragen anzeigen, indem Sie auf die einzelnen Registerkarten klicken.