/

/ TEST4U 3 in 1: MS Word, Excel, Internet 2013, 2010, 2007, 2003 - Deutsche Version
TEST4U 3 in 1: MS Word, Excel, Internet 2013, 2010, 2007, 2003

Deutsche Version
Rely on TEST4U because it offers:
Variety - 1047 exercises for 3 in 1 (Word, Excel, Internet)
Training Hours - Purchase hours for practice according to your individual needs
Unlimited Tests - No limit to the times a question runs, unlike competitive software
Classification - Distinct subcategories ?
Feedback - Immediate evaluation of answers ?
Plenitude - It covers 100% the certification syllabus
Adequacy - Same environment as the exams'
Flexibility - Practice on any Computer
Updates - Access to updated version
Certificate of Completion - Obtain it once you complete the training ?
What's new?
TEST4U 3 in 1
TEST4U is rewarding your trust!
In an attempt to reward your trust, TEST4U is launching a new edition with the 3 most famous products at a special price, with longer end date. TEST4U 3 in 1 will let you practice at the fundamental and most famous modules
Word Processing
Spreadsheets
Web Browsing and Communication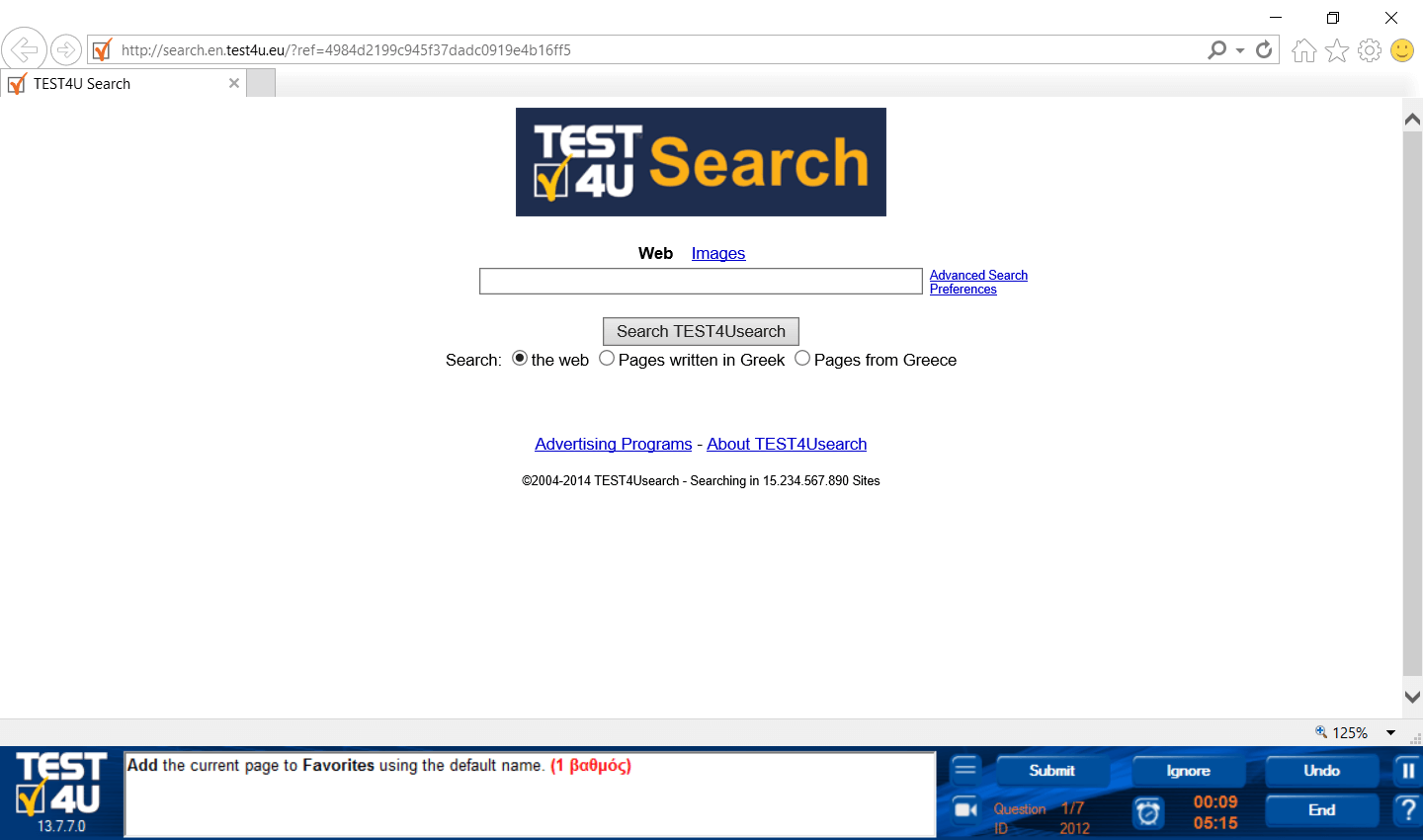 What does TEST4U offer?
TEST4U 3 in 1 will give you access to educational material (exercises, tests) for all 3 modules. You will have 60 hours in total at your disposal (for all 3 modules) in order to consume them within the next 3 months, according to your needs. The three-month period starts with the completion of the order.
This edition contains:
785 Live in ates and
262 Quiz questions
which will help you become familiar with the examination process and obtain a recognized computer certification. μSCENARIOS Questions demand a series of actions to be taken so that a complete document is formatted; much like the actual working conditions.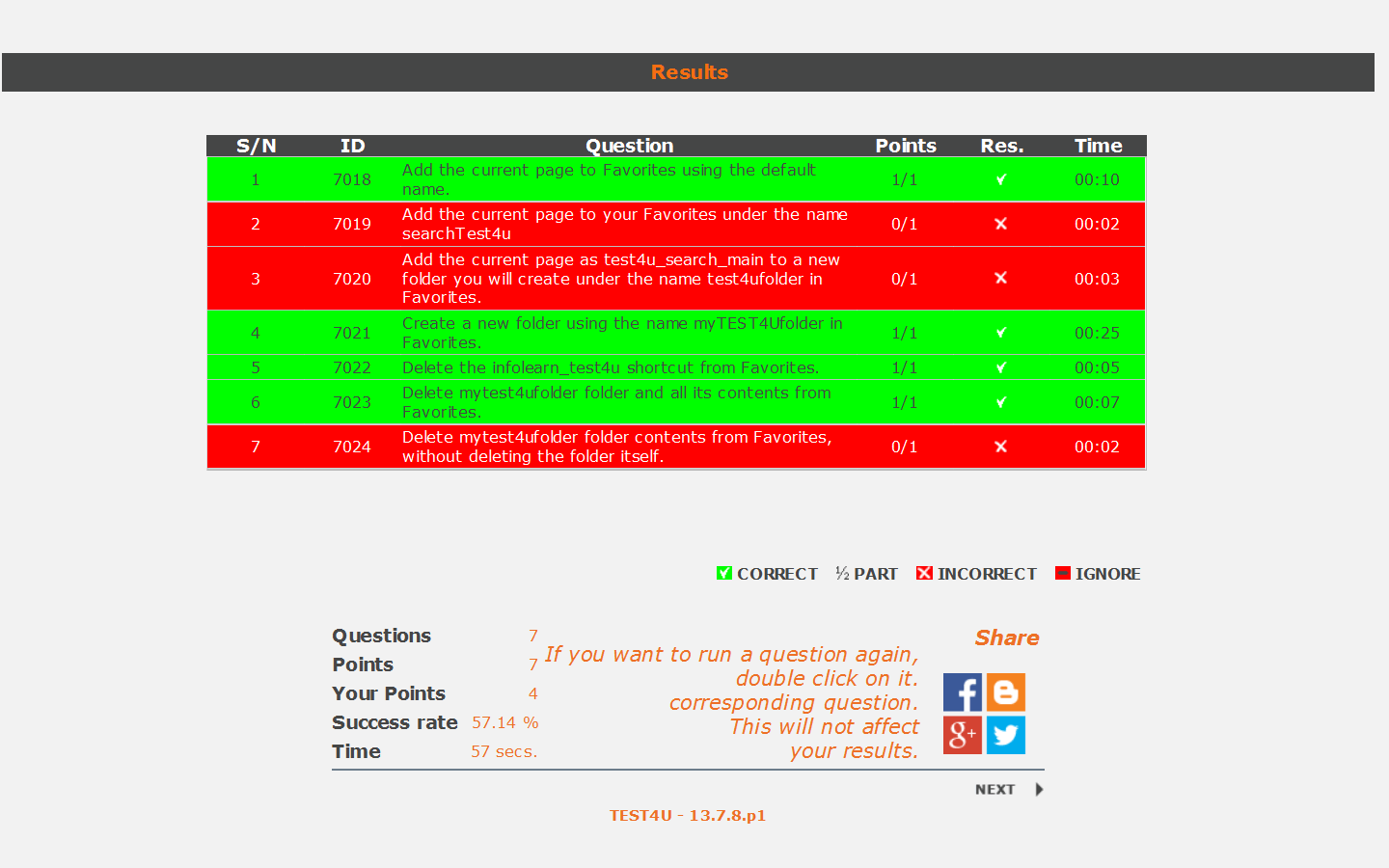 TEST4U includes test and exercises especially designed so as to cover the syllabus for computer certification acquisition or renewal. You will remain completely satisfied with the approach that the questions are designed, because the exercises are adjusted to the certification examinations of various Certification Bodies (e.g. DIPLOMA, ECDL-ICDL, Microsoft Certiport, Cambridge e.tc.).
It covers 100% the syllabus of DIPLOMA Certification Body (DIPLOMA Business Office και DIPLOMA Basic Office) and other Certifications Bodies: Ecdl Icdl (new profile, core, start 5.0), Microsoft Infotest, Vellum Cambridge, Acta, Key-cert, ICT, Globalcert.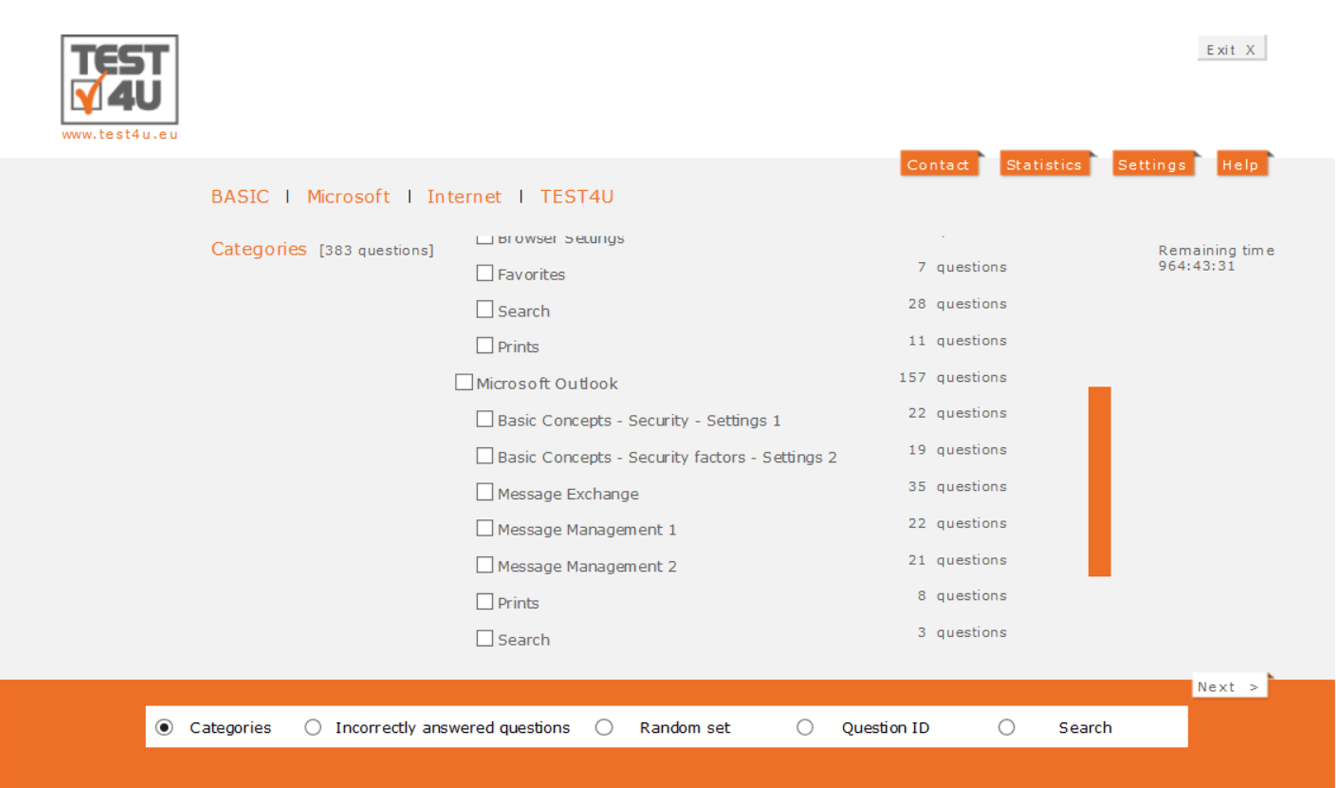 If your knowledge is limited, we propose that, prior to practicing at TEST4U, you should watch the online video-lessons (e-courses) for each module.
Installieren Sie die 3 in 1 (Word, Excel, Internet) Test mit Tests und Aufgaben zum Üben.
For questions about participation fees (price per unit), please contact one of the certified examination centers of the Certification Body
Last updated: 03.01.2018
Minimale Systemanforderungen
Prozessor: mindestens Intel Pentium® 4
Arbeitsspeicher: 512ΜΒ+ RAM
Festplattenspeicher: 1-10 GB
Anzeige: 1152x864 minimale Bildschirmauflosung

Betriebssystem: Windows® XP / Vista / 7 / 8 / 8.1 / 10 (neueste Servicepacks - Region Format: Deutsch (Deutschland))
Internet Explorer 7, 8, 9, 10 or 11 must be installed
MS Office Word 2003, 2007, 2010 oder 2013 - Deutsche Version (Voll Funktionsfähig) muss installiert sein
MS Office Excel 2003, 2007, 2010 oder 2013 - Deutsche Version (Voll Funktionsfähig) muss installiert sein
MS Office Outlook 2003, 2007, 2010 oder 2013 - Deutsche Version (Voll Funktionsfähig) muss installiert sein
Outlook Express 6 (für Windows XP) oder Windows Mail (für Windows Vista) oder Windows Live Mail 2012 (für Windows 7 / 8 / 8.1 / 10) - Deutsche Versions muss installiert sein
Internet: Breitband Internetverbindung

Syllabus
This product covers the following syllabus. You can see the sections covered as well as the number of questions by clicking on each tab.

Check the
quality
of our questions
Enter your e-mail address below and we will immediately send you 27 questions