/

/ Textverarbeitung

/

ECDL Base Word 2016, 2013, 2010 - Italienische Version
ECDL Base Word 2016, 2013, 2010

Italienische Version
Verlassen Sie sich auf TEST4U, weil es Folgendes bietet:
Vielfalt - 281 Übungen für ECDL / ICDL Base Word Processing
Schulungsstunden - Kaufen Sie die Stunden für das Training nach Ihren individuellen Bedürfnissen
Unbegrenzte Tests - Im Gegensatz zu Konkurrenzsoftware gibt es keine Begrenzung für die Dauer einer Frage
Klassifizierung - Verschiedene Unterkategorien ?
Feedback - Sofortige Auswertung der Antworten ?
Hilfe - Integrierte Videolösungen ?
Umfassung - Deckt den Zertifizierungslehrplan zu 100% ab
Angemessenheit - Gleiche Umgebung wie die Prüfungen
Flexibilität - Auf jedem Computer üben
Updates - Zugriff auf die aktualisierte Version
For individuals
Whether this is your first acquaintance with MS Word or you have already been using it and you are looking to upgrade your skills, TEST4U will enable you to empower your knowledge.
Was unsere Kunden über uns sagen
For Enterprises
If your job is about computer education, then you stand just one step away from providing the best possible services! If you represent an educational institution, a business, or work as a public servant and you are interested in teaching the use of Microsoft Office Word at a basic level, then you should use the most popular learning program for office software.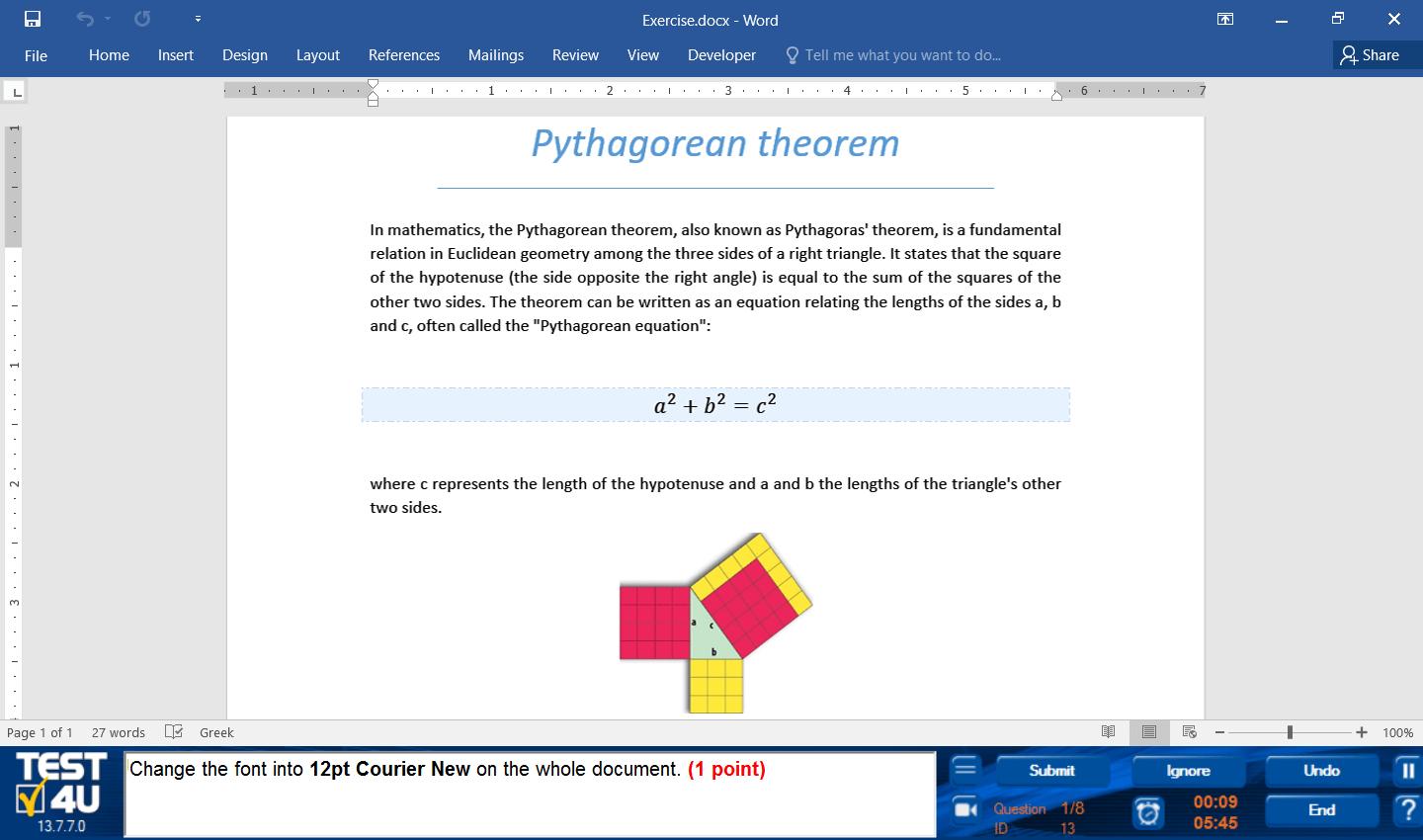 What does TEST4U offer?
TEST4U ECDL / ICDL Base Word Processing Test is an interactive, highly customizable tool that meets your personal educational needs. During the media-rich TEST4U experience you will check your understanding of MS Word, the famous and flexible Word Processing Software of the most well-known office suite, with the greatest variety of features.
TEST4U ECDL / ICDL Base Word Processing Test contains:
262 Live in ates Questions
19 Quiz Questions
μSCENARIOS Questions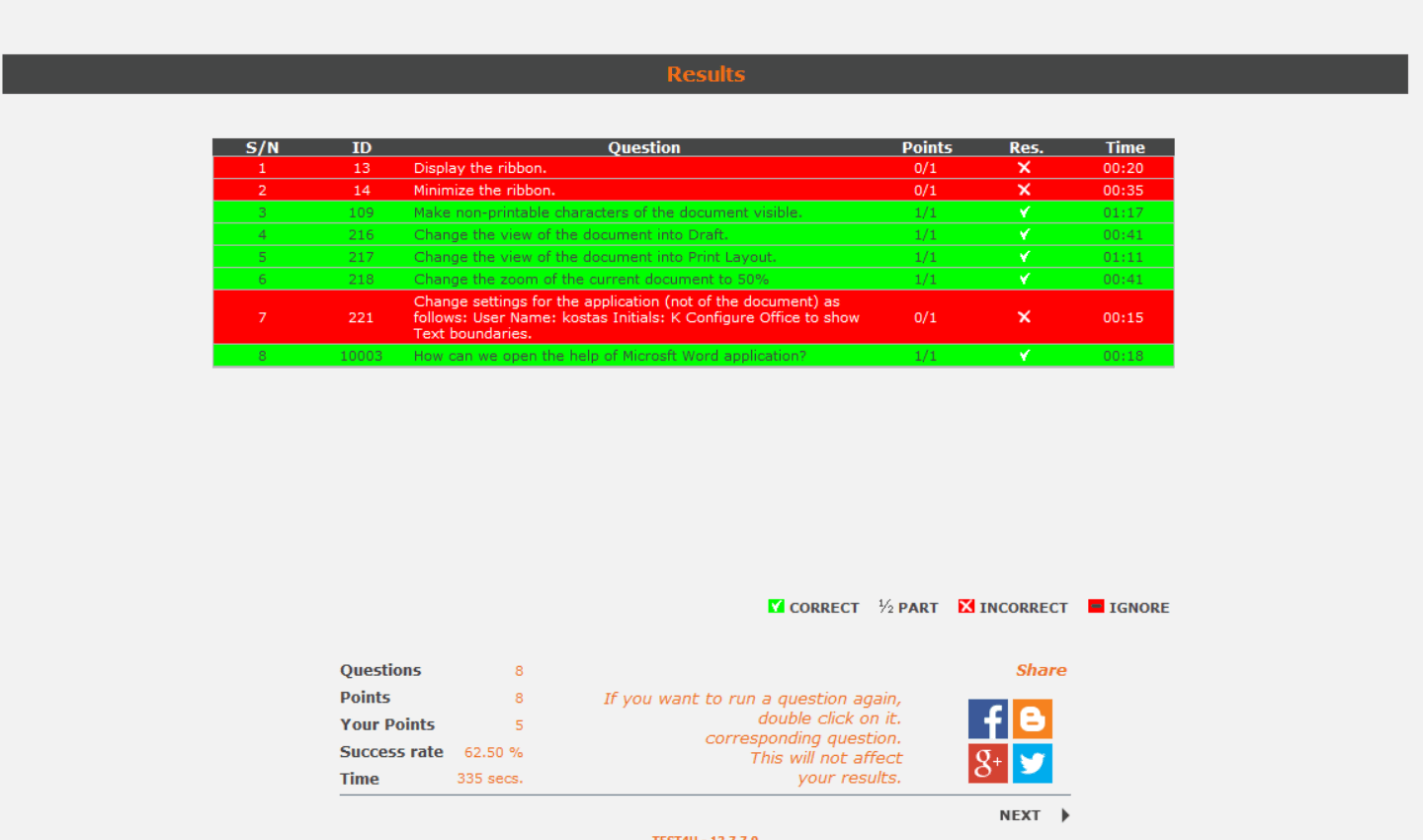 This is how TEST4U ECDL / ICDL Base Word Processing Test will help you reinforce your learning: by actually performing tasks, not by simply broadcasting some e-course accompanied by multiple choice questions. If your knowledge of a topic is limited, you can watch our video-solutions which guide you step-by-step.
In case you are totally ignorant of MS Word, we propose that, prior to practicing at TEST4U, you should watch our online video-lessons (e-courses).
Our MS-Word TEST4U Module will allow you to learn how to create basic documents, format text and images, create and use tables, templates, mail merges, macros and much more. Even if you are an experienced user, you will upgrade your knowledge to the latest version.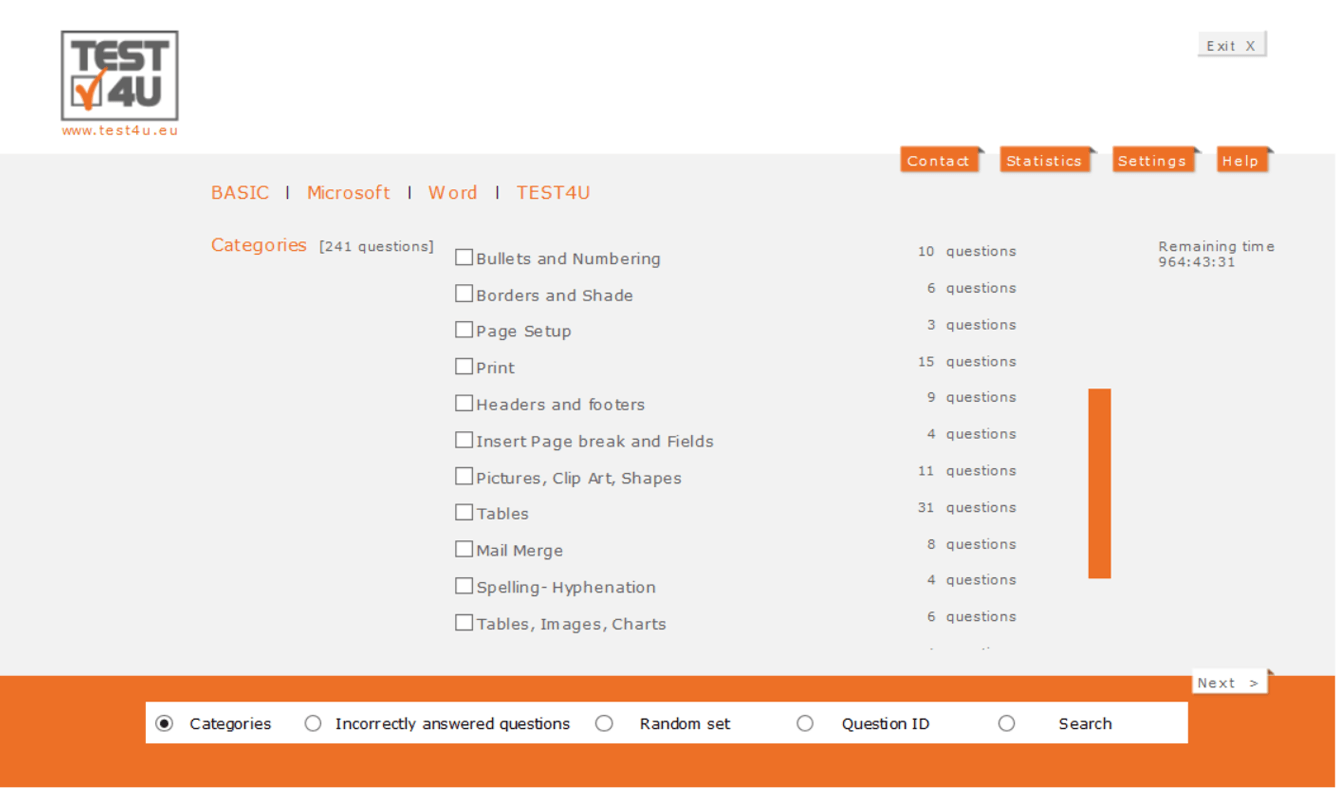 Our years of classroom training experience and teaching techniques have been incorporated in TEST4U. As a result, TEST4U ECDL / ICDL Base Word Processing Test covers 100% the syllabus of DIPLOMA Certification Body (DIPLOMA Business Office and DIPLOMA Basic Office) and other Certification Bodies: Ecdl Icdl (new profile, core, start 5.0), Microsoft Infotest, Vellum Cambridge, Acta, Key-cert, ICT, Globalcert, Certiport MOS 2007 (Exam: 77-601).
ECDL / ICDL Base Word Processing 365, 2019, 2016 2013 2010 2007 2003 Test which contains tests and exercises for practice.
Last updated: 25.07.2019
Minimale Systemanforderungen
CPU: Pentium® 4 (or newer)
RAM: 512ΜΒ +
Hard disk free space: 1-10GB
Minimum screen resolution: 1280x720 (size of text, apps and other items 100%)

Operating system: Windows XP / Vista / 7 / 8 / 8.1 / 10 (updated with newer service pack - Region Format: English (United States))
Internet Explorer: 7.0+
MS Office Word 2003, 2007, 2010, 2013 or 2016 - English Version (Fully Functional) must be installed - There must be only one version installed
Continuous Internet connection is required

Syllabus
Dieses Produkt umfasst den folgenden Lehrplan. Sie können die behandelten Abschnitte sowie die Anzahl der Fragen anzeigen, indem Sie auf die einzelnen Registerkarten klicken.

Check the
quality
of our questions
Enter your e-mail address below and we will immediately send you 27 questions