The following is a screenshot of the environment of the application TEST4U.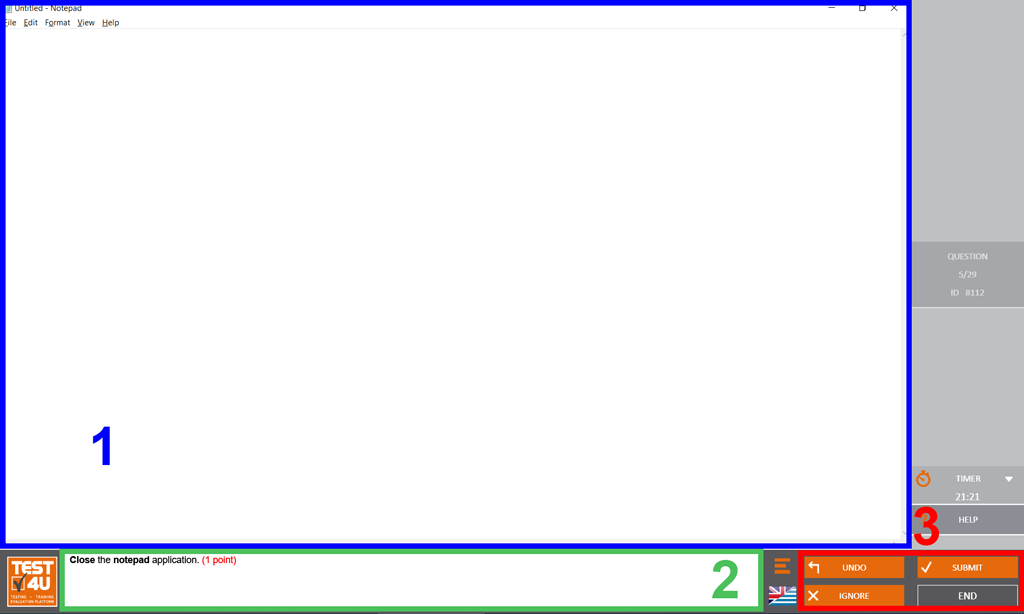 #1 – blue box: the area where the application is displayed. In this case, the application is MS-Word 2010
#2 – green box: the area where the wording of each question is displayed; what you are asked to do. Therefore, read carefully what the questions asks and try to answer correctly.
#3 – red box: the area where various buttons, the time at your disposal, the sum of questions as well as the question ID are displayed.
Submit is what you need to press after you have answered the question, so that TEST4U can evaluate the correctness of your answer and display the next question.
Ignore is what you need to press when you want to ignore a question. The ignored questions appear at the end of the test again, so you have the opportunity to answer them. You can ignore one question as many times as you wish. However, you will have to answer the ignored questions within the specified time limit.
Undo is what you need to press in order to undo all the steps you took in order to answer the specific question and start over at this question. If, for example, you have accidentally deleted part of the text, then you press the undo button, and TEST4U will display the specific question again.
End is what you need to press when you want to exit TEST4U.