/

/

/ 77-728 Microsoft Office Specialist Excel Expert 2016 - German version
77-728 Microsoft Office Specialist Excel Expert 2016

German version
Rely on TEST4U because it offers:
Variety - 328 exercises for MOS 2016 Excel Expert 77-728
Training Hours - Purchase hours for practice according to your individual needs
Unlimited Tests - No limit to the times a question runs, unlike competitive software
Classification - Distinct subcategories [?]
Feedback - Immediate evaluation of answers [?]
Help - Incorporated Video-solutions [?]
Plenitude - It covers 100% the certification syllabus
Adequacy - Same environment as the exams'
Flexibility - Practice on any Computer
Updates - Access to updated version
Interested in 77-728 MOS Excel Expert 2016 Exam?
Here is everything that you need.
TEST4U will:
Empower your knowledge
Train you on the latest version of Microsoft Excel 2016
Prepare you for the Certiport, Microsoft Office Specialist Excel 2016 Exam 77-728
The exam-focused training that TEST4U provides will allow you to feel confident while sitting the exam.
The 77-728 Exam requires a proficient understanding of the advanced features of Excel 2016 environment and the ability to complete tasks independently.
The new multiple project format requires the creation, management, and distribution of professional spreadsheets for a variety of specialized purposes and situations, as well the ability to guide others to the proper use of the program's features, as well as advanced formatting and customization of Microsoft Excel 2016 environment in order to meet the project needs and enhance productivity.
These workbooks are inspired by real life and include examples of custom business templates, multiple-axis financial charts, amortization tables, and inventory schedules. Candidate roles may include accountants, financial analysts, data analysts, commercial bankers, and others.
The purpose of the multiple smaller projects format is to
enhance the learning process
, by providing
stronger assessment tools
.
The revised exam instructions are designed in order to
avoid command and function names
assure a deeper understanding of the program functionality.
According to Certiport official guidelines:
"...MOS 2016 certification exams introduce a new performance-based format for improved testing of a candidate's knowledge, skills and abilities using the MOS 2016 programs:
MOS 2016 exam task instructions generally do not include the command name as in previous versions. For example, function names are avoided, and are replaced with descriptors. This means candidates must understand the purpose and common usage of the program functionality in order to successfully complete the tasks in each of the projects.
The MOS 2016 exam format incorporates multiple projects."
More than 700.000 Candidates have trusted TEST4U for their Training since 2003.
This is what they say:


What does TEST4U offer?
If you are looking to assess your performance and prepare for MOS Certifications, then TEST4U MOS 2016 Excel Expert 77-728 Test is everything that you need. You will be 100% ready for the performance-based format that you will encounter during the MOS Exams. TEST4U is 100% compatible with the new MOS multiple projects environment, the revised instructions and integrates with the MOS Objective Domains.
TEST4U MOS 2016 Excel Expert 77-728 Test is an interactive, highly customizable tool that meets your personal learning needs. During the media-rich TEST4U experience, you will amplify your understanding of MS Excel, the most famous and flexible spreadsheet software, part of Microsoft Office Suite.
TEST4U MOS 2016 Excel Expert 77-728 Test will help you improve your skills because it contains:
Multiple Project Questions (MOS Syllabus - new 2016 format)
321 Live in ates Questions
13 Quiz Questions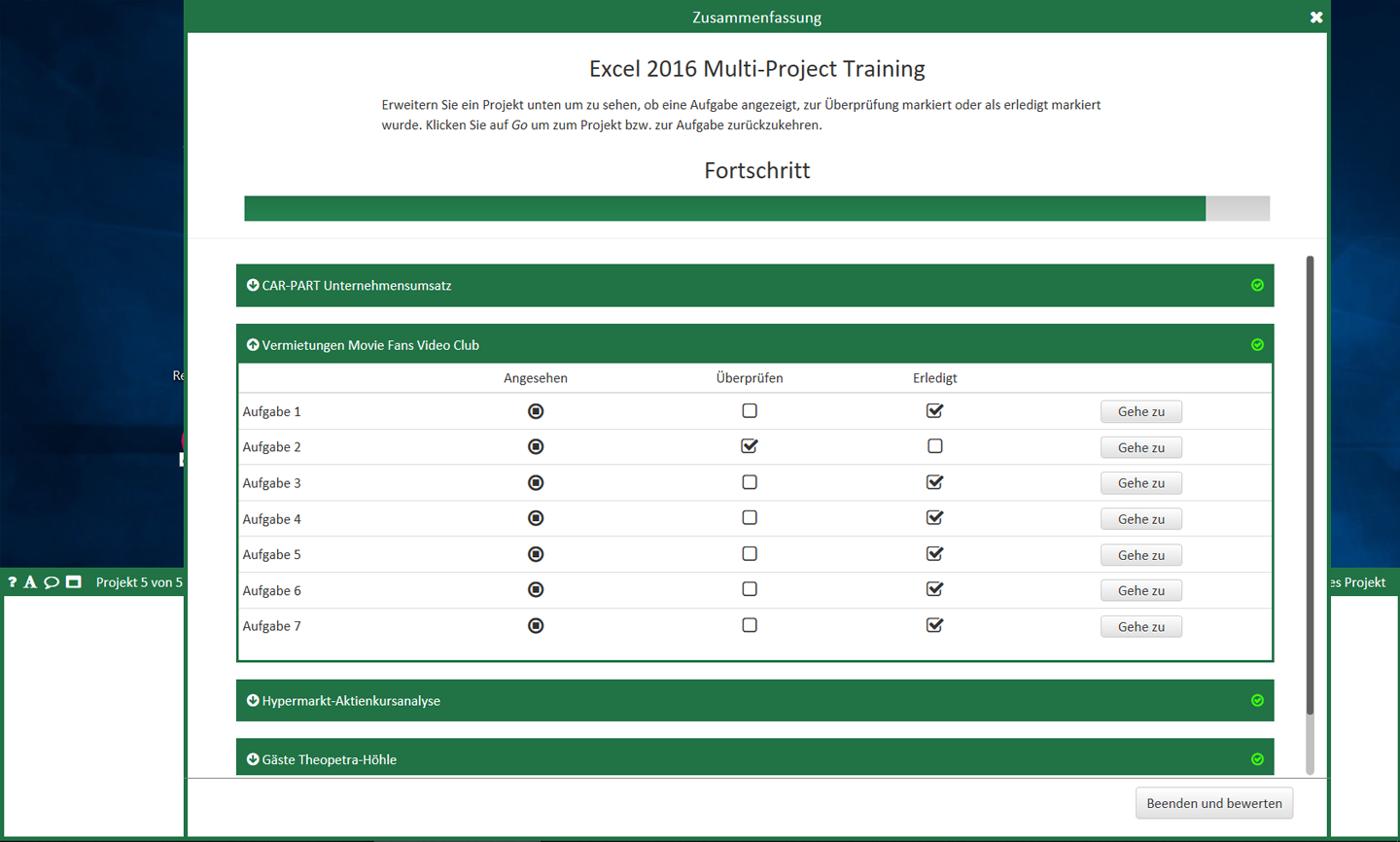 Instead of being just another e-lesson with a few multiple choice questions, TEST4U MOS 2016 Excel Expert 77-728 Test makes the difference!
The questions it contains require actual tasks to be performed. For each question, you are asked to take some actions, which TEST4U will evaluate. Much like the actual working conditions: You can't make educated guesses! In order to answer correctly, you must know which buttons to use.
If your knowledge of a topic is limited, you can watch our video-solutions which guide you step-by-step.
By successfully completing our MS-Excel TEST4U Module, you will know how to Manage Workbook Options and Settings, Apply Custom Data Formats and Layouts, Create Advanced Charts and Tables e.tc. If you are used to working with an older version, you will upgrade your skills to the latest 2016 version.
We have incorporated in TEST4U all our years of classroom training experience and teaching techniques. As a result, TEST4U covers 100% the syllabus of Certiport Certification Body (Exam: 77728).
Download the MOS 2016 Excel Expert 77-728 Test which contains tests and exercises for practice.
Last updated: 24 Jul 2019
Minimum system requirements
CPU: Pentium? 4 (or newer)
RAM: 512ΜΒ +
Hard disk free space: 1-10GB
Minimum screen resolution: 1280x720 (size of text, apps and other items 100%)

Operating system: Windows 10 / 8.1 / 8 / 7 (updated with newer service pack - Region Format: German (Germany))
Internet Explorer: 10+
MS Office Excel 2016 - German Version (Fully Functional) must be installed - There must be only one version installed
Continuous Internet connection is required


Check the
quality
of our questions
Enter your e-mail address below and we will immediately send you 55 questions
Syllabus
This product covers the following syllabus. You can see the sections covered as well as the number of questions by clicking on each tab.