MO-400 Outlook Associate

Office 365 & Office 2019 - German version
Rely on TEST4U because it offers:
Variety - 242 exercises for MO-400 Outlook Associate
Training Hours - Purchase hours for practice according to your individual needs
Unlimited Tests - No limit to the times a question runs, unlike competitive software
Classification - Distinct subcategories ?
Feedback - Immediate evaluation of answers ?
Plenitude - It covers 100% the certification syllabus
Adequacy - Same environment as the exams'
Flexibility - Practice on any Computer
Updates - Access to updated version
TEST4U Outlook Associate (Office 365 y Office 2019): Examen MO-400
El nuevo examen de Microsoft Office Specialist Outlook Associate (Office 365 y Office 2019) estará disponible en Q3 semestre 2019, de acuerdo con Certiport!
La nueva versión de TEST4U para MO-400 Word Associate está lista y estará disponible una vez que se publique el examen oficial.
La nueva versión de TEST4U es totalmente compatible con el nuevo examen MO 400 (Office 365 y Office 2019):
TEST4U cubre el 100% de los objetivos del examen, por lo que estará 100% listo para el examen de Outlook Associate (Office 365 y Office 2019).
El entorno de capacitación y examen de TEST4U incorpora el formato de múltiples proyectos que Certiport ha adoptado desde los exámenes de MOS 2016.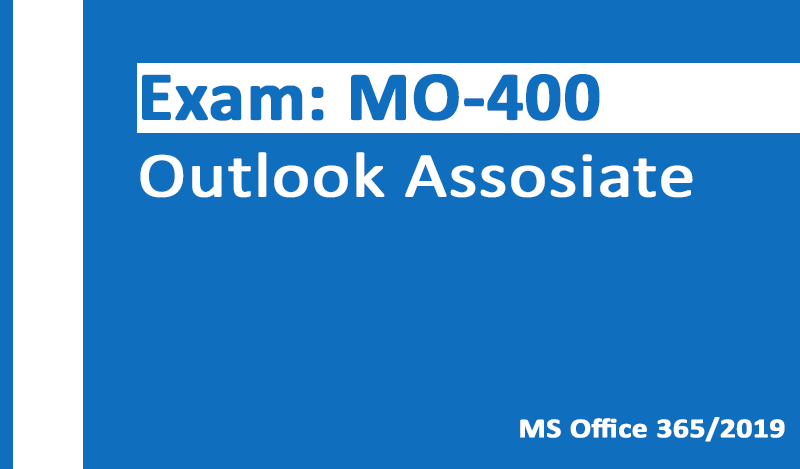 Examen Outlook Associate MO-400
Como Certiport ha anunciado oficialmente: "La certificación Microsoft Certified Associate de Outlook demuestra competencia para personalizar el contenido del mensaje y formato de interfaz de usuario de Outlook, crear o insertar elementos gráficos, así como enviar y responder a mensajes de correo electrónico y solicitudes de reunión. El examen cubre la capacidad de mejorar la correspondencia profesional, crear calendarios y programar citas. Los ejemplos de aplicación incluyen la coordinación de recursos de construcción, el envío de mensajes para campañas de marketing, la planificación de reuniones de personal y la asignación de elementos de acción de la reunión.
Una persona que obtenga esta certificación tiene aproximadamente 150 horas de formación y experiencia práctica con el producto, ha demostrado su competencia a nivel de asociado en la industria y está lista para ingresar al mercado laboral. Puede demostrar la aplicación correcta de las herramientas principales de Outlook y puede completar tareas de forma independiente."
¿Cómo pasar el examen Outlook Associate MO-400?
Confíe en la capacitación estructurada y centrada en los exámenes que han formado los instructores experimentados de TEST4U.
La capacitación TEST4U está diseñada para guiarlo paso a paso durante su ruta de aprendizaje:
Paso 1. Descubra su nivel actual de habilidades con la Prueba de Referencia TEST4U.
Paso 2. Entrena en el - 240 en vivo ejercicios de aplicación para el examen Outlook Associate MO-400.
Paso 3. Realice el TEST4U Final Assessment TEST para verificar su preparación para el examen.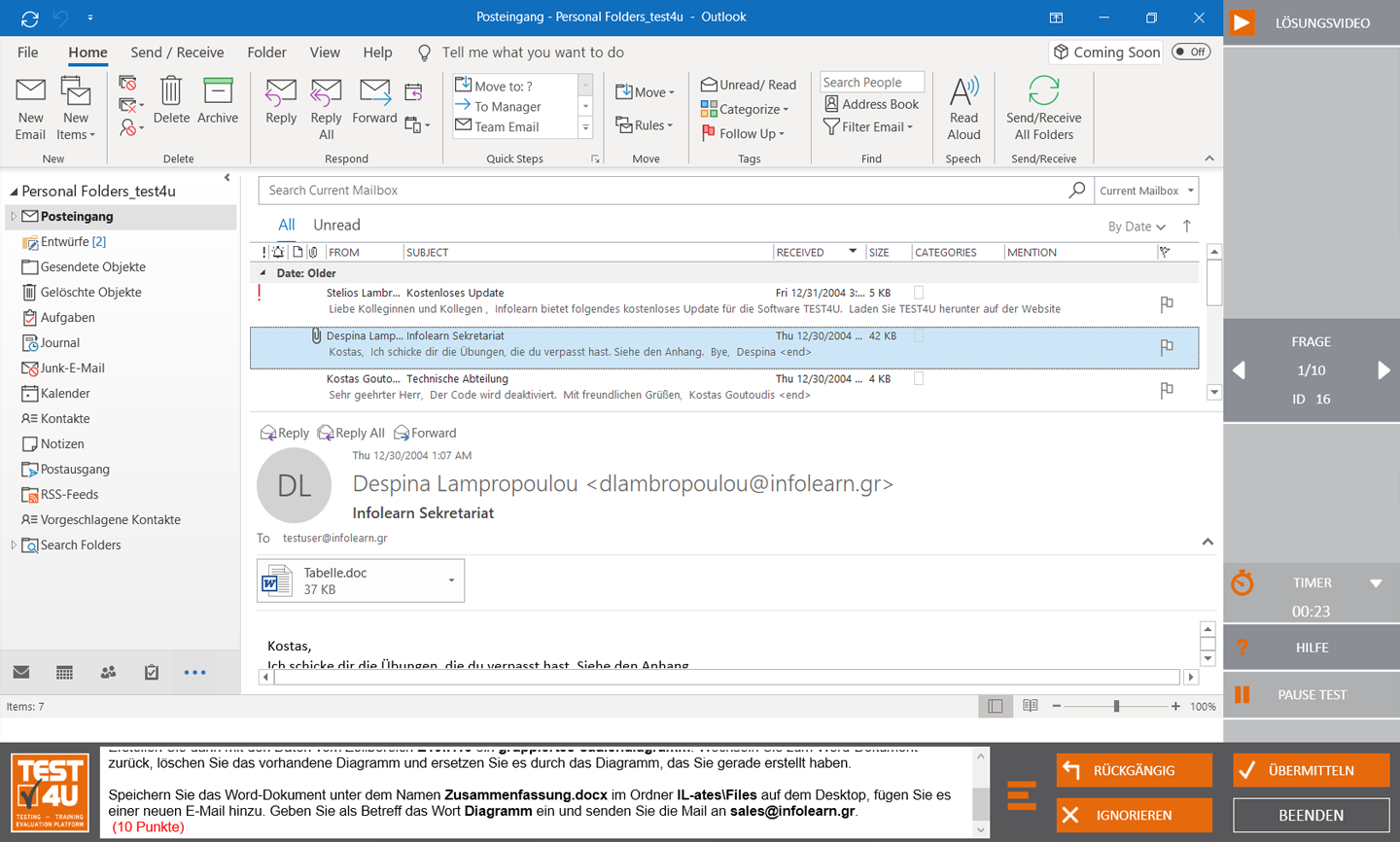 Certiport menciona que
"los exámenes de Microsoft Office Specialist utilizan un formato basado en el rendimiento que evalúa los conocimientos, habilidades y capacidades de un candidato utilizando los programas Microsoft Office 365 y Office 2019:
Las instrucciones de la tarea de examen del Programa Microsoft Office Specialist generalmente no incluyen el nombre del comando. Por ejemplo, los nombres de funciones se evitan y se reemplazan con descriptores. Esto significa que los candidatos deben comprender el propósito y el uso común de la funcionalidad del programa para completar con éxito las tareas en cada uno de los proyectos.
El formato del examen Microsoft Office Specialist incorpora varios proyectos como en la versión anterior, y usa herramientas, funciones y características mejoradas de los programas más recientes."
¡ Siéntase seguro!
Hemos utilizado nuestra experiencia desde 2003 y lo hemos tenido todo en cuenta antes de desarrollar el nuevo Examen TEST4U Outlook Associate (Office 365 y Office 2019) MO-400.
Más de 700.000 candidatos han confiado en TEST4U para su formación desde 2003.
Esto es lo que dicen:
¿Es la primera vez que utiliza TEST4U?
Una vez que se encuentre en el entorno TEST4U, se dará cuenta de que TEST4U es muy diferente de otros cursos de aprendizaje electrónico. El examen MO-400 de TEST4U Outlook Associate (Office 365 y Office 2019) le permitirá participar activamente en el proceso de aprendizaje, en lugar de simplemente ver una video-lección acompañada de preguntas de tipo cerrado.
Los exámenes se basan en el rendimiento, por lo que solo responder las preguntas de opción múltiple no lo ayuda a consolidar. Necesita aprender a realizar tareas y recibir comentarios instantáneos sobre cómo lo hizo. Es por eso que hemos desarrollado preguntas con tareas reales que necesita realizar y soluciones de video paso a paso guiadas para demostrar la manera correcta de abordar cada pregunta.
Con TEST4U Outool Associate (Office 365 y Office 2019) MO-400 cubrirá el 100% de todos los objetivos de dominios:
Administrar la configuración de Outlook y los procesos
Administrar mensajes
Administrar horarios
Administrar contactos y tareas
Incluso si usted es un usuario experimentado, se actualice sus habilidades a la última versión de Microsoft Office.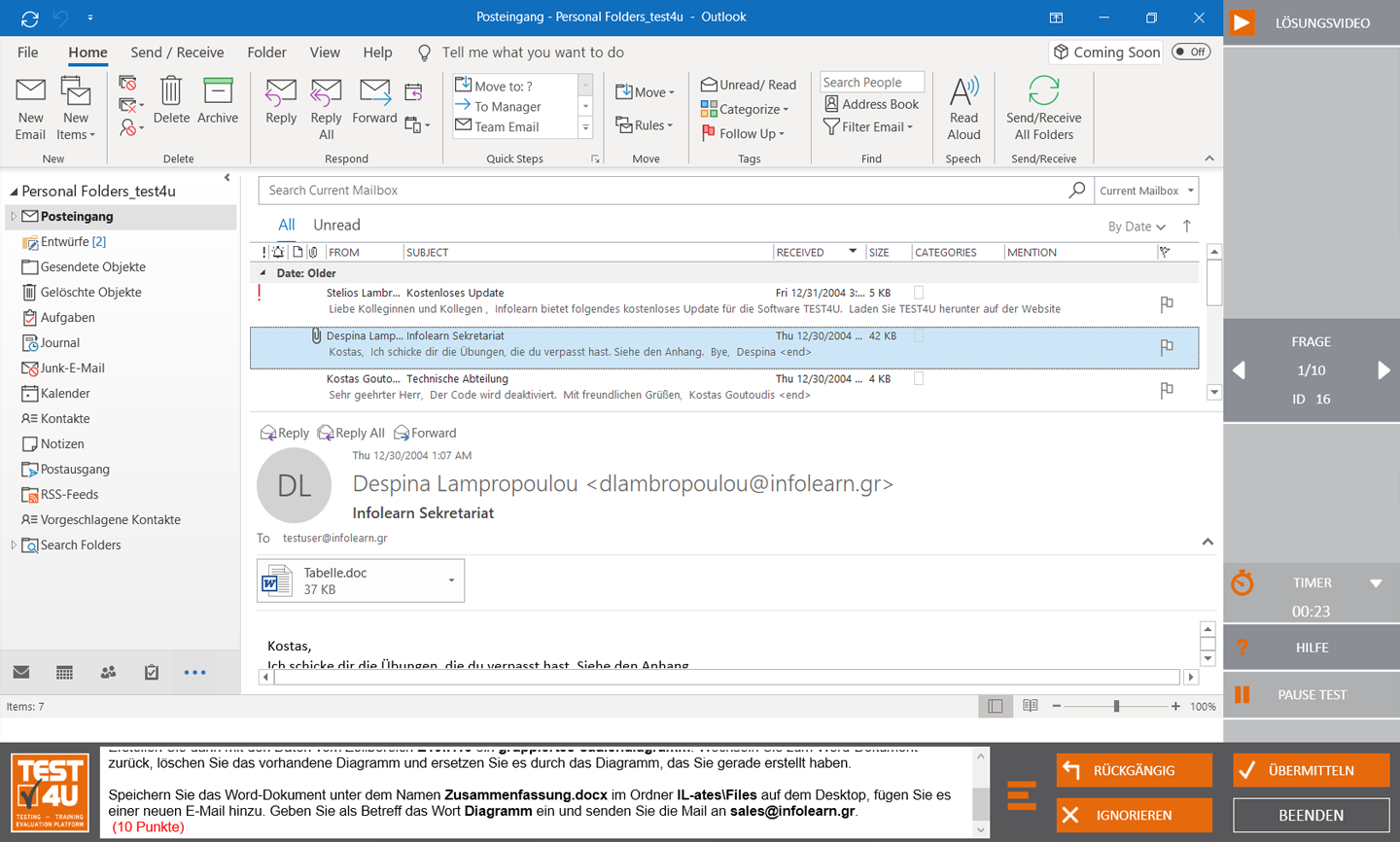 TEST4U no es otro material de aprendizaje electrónico. TEST4U es diferente.
Hemos incorporado nuestros años de experiencia en capacitación en el aula y técnicas de enseñanza en TEST4U, lo que resulta en el examen MO-400 TEST4U Outlook Associate (Office 365 y Office 2019) que cubre el 100% del programa del Certiport Certification Body (Exam: MO 400).
TEST4U proporciona acceso a la última versión actualizada del módulo TEST4U que seleccionó, con todas las funciones incluidas (nuevas preguntas, actualizaciones e.tc.).
Descargue el examen MO-400 de TEST4U Outlook Associate (Office 365 y Office 2019) que contiene pruebas y ejercicios para la práctica.
Más de 700.000 candidatos han confiado en TEST4U para la preparación de su examen desde 2003. Sea el próximo.
Last updated: 25 Jul 2019
Minimum system requirements
CPU: Pentium® 4 (or newer)
RAM: 512ΜΒ +
Hard disk free space: 1-10GB
Minimum screen resolution: 1280x720 (size of text, apps and other items 100%)

Operating system: Windows 10 / 8.1 / 8 / 7 (updated with newer service pack - Region Format: German (Germany))
Internet Explorer: 7.0+
MS Office Outlook 365 or 2019 - German Version (Fully Functional) must be installed - There must be only one version installed
Continuous Internet connection is required


Check the
quality
of our questions
Enter your e-mail address below and we will immediately send you 55 questions
Syllabus
This product covers the following syllabus. You can see the sections covered as well as the number of questions by clicking on each tab.