/

/

/ 77-725 Microsoft Office Specialist Word Core 2016 - Versión en español
77-725 Microsoft Office Specialist Word Core 2016

Versión en español
Confíe en TEST4U porque ofrece:
Variedad - 445 ejercicios para MOS Word 2016 77-725
Horas de formación - Compre horas para la práctica según sus necesidades individuales
Pruebas ilimitadas - no hay límite para las veces que se ejecuta una pregunta, a diferencia del software de la competencia
Clasificación - Subcategorías distintas ?
Feedback - evaluación inmediata de las respuestas?
Plenitud - cubre 100% el syllabus de la certificación
Adecuación - el formato de preguntas de TEST4U es lo mismo que el formato de preguntas de los exámenes
Flexibilidad - practica en cualquier computadora
Actualizaciones - Acceso a la versión actualizada
¿Interesado en el examen 77-725 MOS Word 2016?
Todo lo que usted necesite está aquí.
TEST4U:
Potenciará su conocimiento
Lo capacitará en la última versión de Microsoft Word 2016
Lo preparará para el examen de Certiport, Microsoft Office Specialist Word 2016 77-725.
La formación centrada en el examen que proporciona TEST4U le permitirá sentirse seguro mientras realiza el examen.
El examen 77-725 requiere una comprensión fundamental del entorno de Word y la capacidad de completar tareas de forma independiente.
El nuevo formato de proyecto múltiple incluye la creación y edición de documentos de 2 a 3 páginas, como informes de aspecto profesional, boletines informativos de varias columnas, resúmenes y correspondencia comercial.
El propósito del formato de proyectos múltiples más pequeños es
mejorar el proceso de aprendizaje
, proporcionando herramientas de
evaluación más sólidas
.
Las instrucciones revisadas del examen están diseñadas para
evitar nombres de comandos y funciones
a fin de asegurar una comprensión más profunda de la funcionalidad del programa.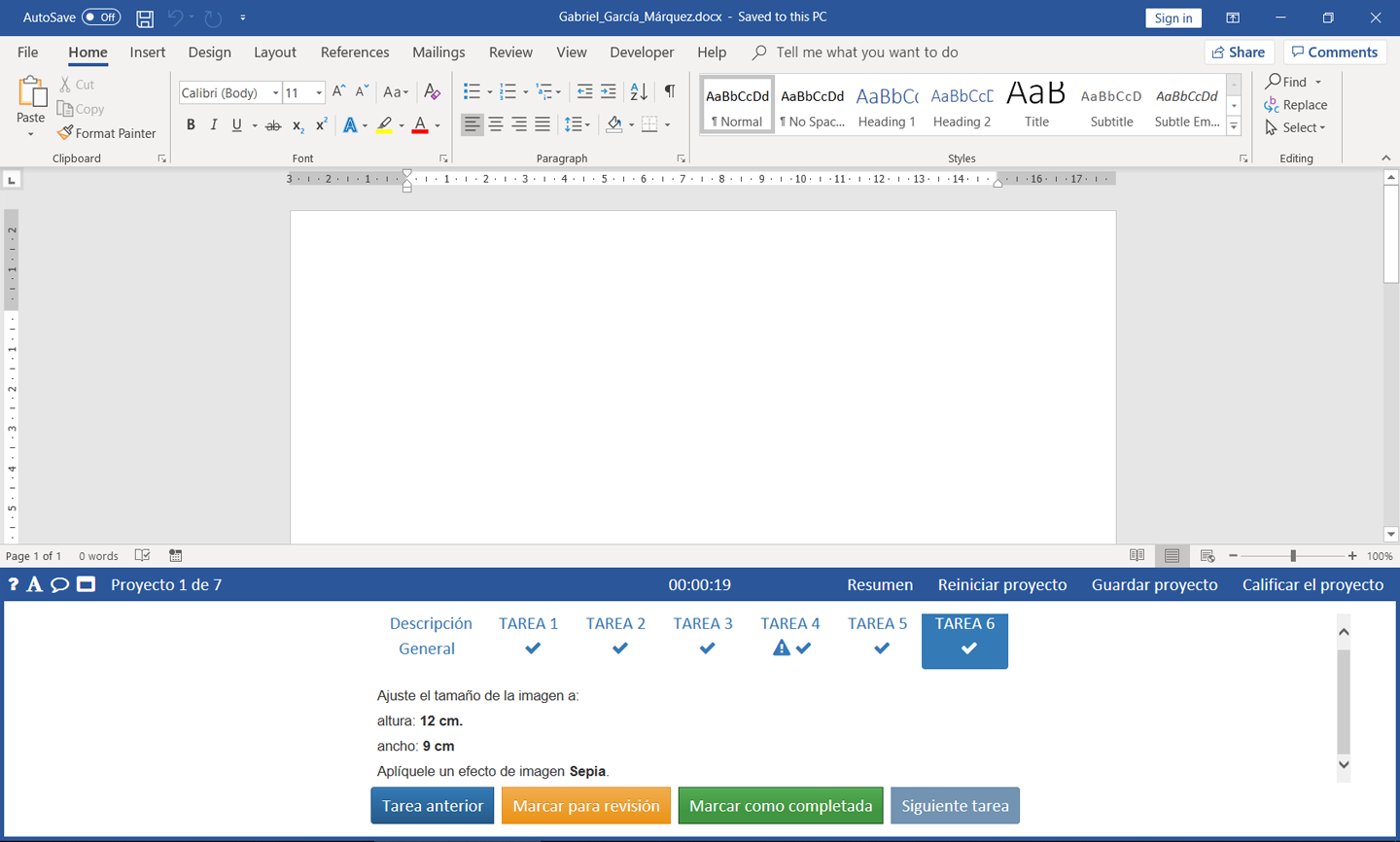 Según las pautas oficiales de Certiport:
"... Los exámenes de certificación Microsoft Office Specialist (MOS) 2016 introducen un nuevo formato basado en rendimiento para mejorar la evaluación de los conocimientos, habilidades y aptitudes de un candidato con programas MOS 2016:
Las instrucciones de las tareas del examen MOS 2016 normalmente no incluyen el nombre del comando, como ocurría en las versiones anteriores. Por ejemplo, se evitan los nombres de las funciones y se sustituyen por descriptores. Esto significa que los candidatos deben comprender el propósito y el uso común de la funcionalidad del programa para poder realizar correctamente las tareas de cada uno de los proyectos.
El formato del examen MOS 2016 incorpora varios proyectos"
Más de 700.000 candidatos han confiado en TEST4U para su formación desde 2003.
Esto es lo que dicen:
¿Qué ofrece el TEST4U?
TEST4U MOS Word 2016 77-725 Test es una herramienta interactiva y altamente personalizable que satisface sus necesidades educativas personales. Durante la experiencia TEST4U rica en medios, comprobará su comprensión de MS Word, el famoso y flexible software de procesamiento de textos del conjunto de aplicaciones ofimáticas más conocido, con la mayor variedad de funciones.
La prueba TEST4U MOS Word 2016 77-725 Test contiene:
Múltiples preguntas de proyectos (plan de estudios MOS - nuevo formato 2016)
436 preguntas en vivo en ates (Live in-ates)
9 Tipo de cuestionario preguntas
Preguntas desafiantes (más allá del plan de estudios MOS)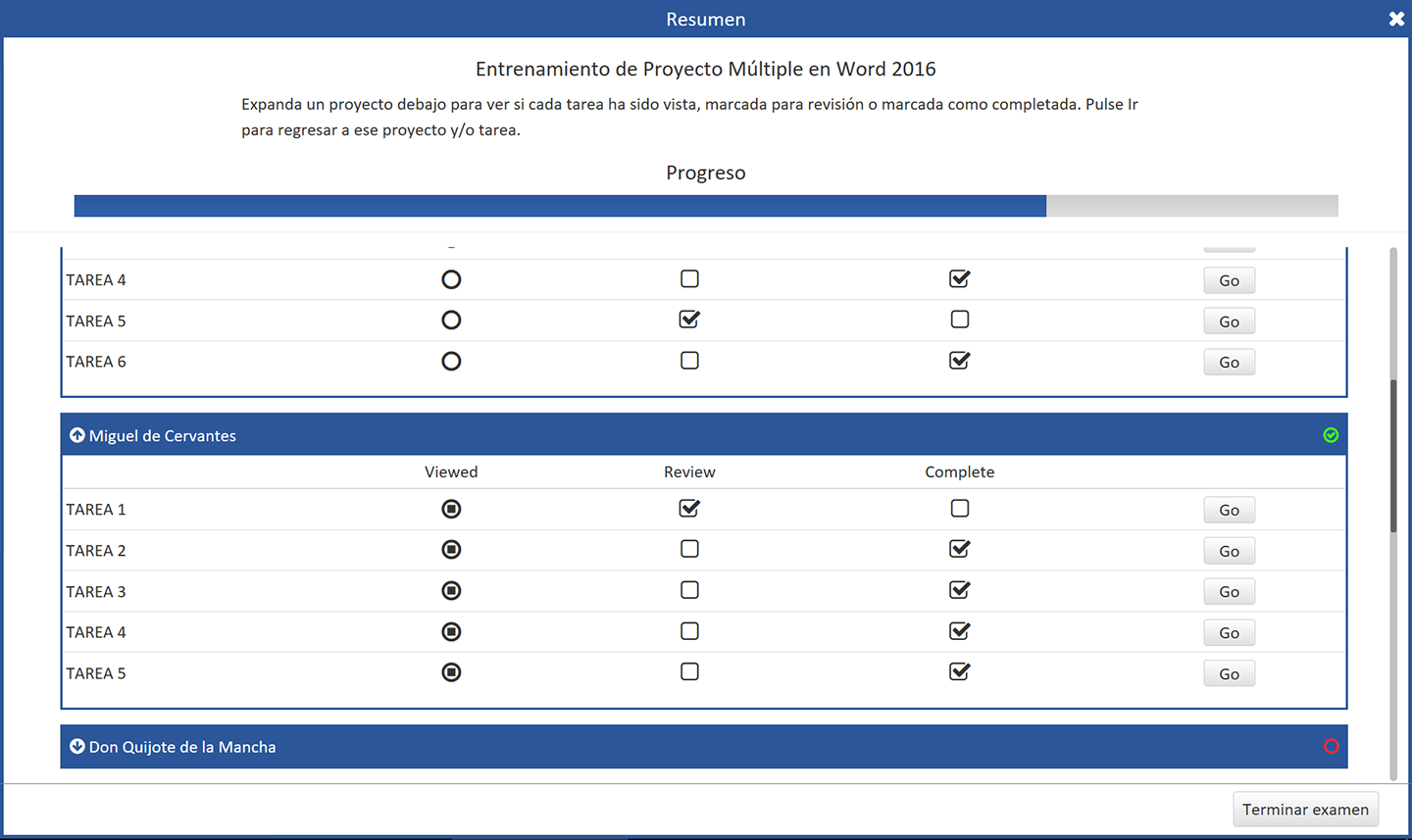 Así es como TEST4U MOS Word 2016 77-725 Test lo ayudará a reforzar su aprendizaje: realizando tareas, no simplemente transmitiendo un curso electrónico acompañado de preguntas de respuesta multiple. Si su conocimiento de un tema es limitado, puede ver nuestras soluciones de video que lo guían paso a paso.
Nuestro módulo MS-Word TEST4U le permitirá aprender a crear documentos básicos, formatear texto e imágenes, crear y usar tablas, plantillas, combinaciones de correspondencia, macros y mucho más. Incluso si es un usuario experimentado, actualizará sus conocimientos a la última versión.
Nuestros años de experiencia en capacitación en el aula y técnicas de enseñanza se han incorporado en TEST4U. Como resultado, la prueba TEST4U MOS Word 2016 77-725 Test cubre el 100% del plan de estudios (Silaba) de Certiport Organismo Internacional Certificador en materia del uso de las TIC (Tecnologías de Información y la Comunicación) en educación (Examen: 77725).
TEST4U proporciona acceso a la última versión actualizada del módulo TEST4U que ha seleccionado, todas las características incluidas (nuevas preguntas, actualizaciones e.tc.).
Descargue la prueba automatizada MOS Word 2016 77-725, que contiene pruebas y ejercicios para la práctica.
Si tiene preguntas sobre tarifas de participación (precio por unidad), comuníquese con uno de los centros de examen certificados del Organismo de certificación.
¡La prueba TEST4U 77-725 Microsoft Office Specialist Word Core 2016 también está disponible a través de la plataforma Udemy! ¡Inscríbete en nuestro curso ahora!
Last updated: 25 Jul 2019
Minimum system requirements
CPU: Pentium® 4 (o más reciente)
RAM: 512ΜΒ +
Espacio mínimo disponible en el disco duro: 1-10GB
Resolución de pantalla mínima: 1280x720 (tamaño del texto, aplicaciones y otros elementos 100%)

Sistema operativo: Windows 10/8.1/8/7 (actualizado con el service pack más nuevo - Formato de región: Español (España, internacional))
Internet Explorer: 10+
Se debe instalar MS Office Word 2016 - Versión en Español (completamente funcional) - Debe haber solo una versión instalada
Se requiere conexión a Internet continua


Check the
quality
of our questions
Enter your e-mail address below and we will immediately send you 55 questions
Syllabus
This product covers the following syllabus. You can see the sections covered as well as the number of questions by clicking on each tab.