ECDL Intermediate Presentations

English version
Rely on TEST4U because it offers:
Variety - 210 exercises for
Training Hours - Purchase hours for practice according to your individual needs
Unlimited Tests - No limit to the times a question runs, unlike competitive software
Classification - Distinct subcategories ?
Feedback - Immediate evaluation of answers ?
Plenitude - It covers 100% the ECDL / ICDL Intermediate Presentation certification syllabus
Adequacy - Same environment as the exams'
Flexibility - Practice on any Computer
Updates - Access to updated version
Per privati
Presentare diapositive, come studente o come una professionista, è un'abilità che dovrai assolutamente padroneggiare. Impara come usare Microsoft PowerPoint, aggiorna e amplifica le tue capacità con l'ultima versione del programma. TEST4U contiene tutto ciò di cui hai bisogno per mettere in mostra le tue competenze e soddisfa le tue esigenze personali di apprendimento!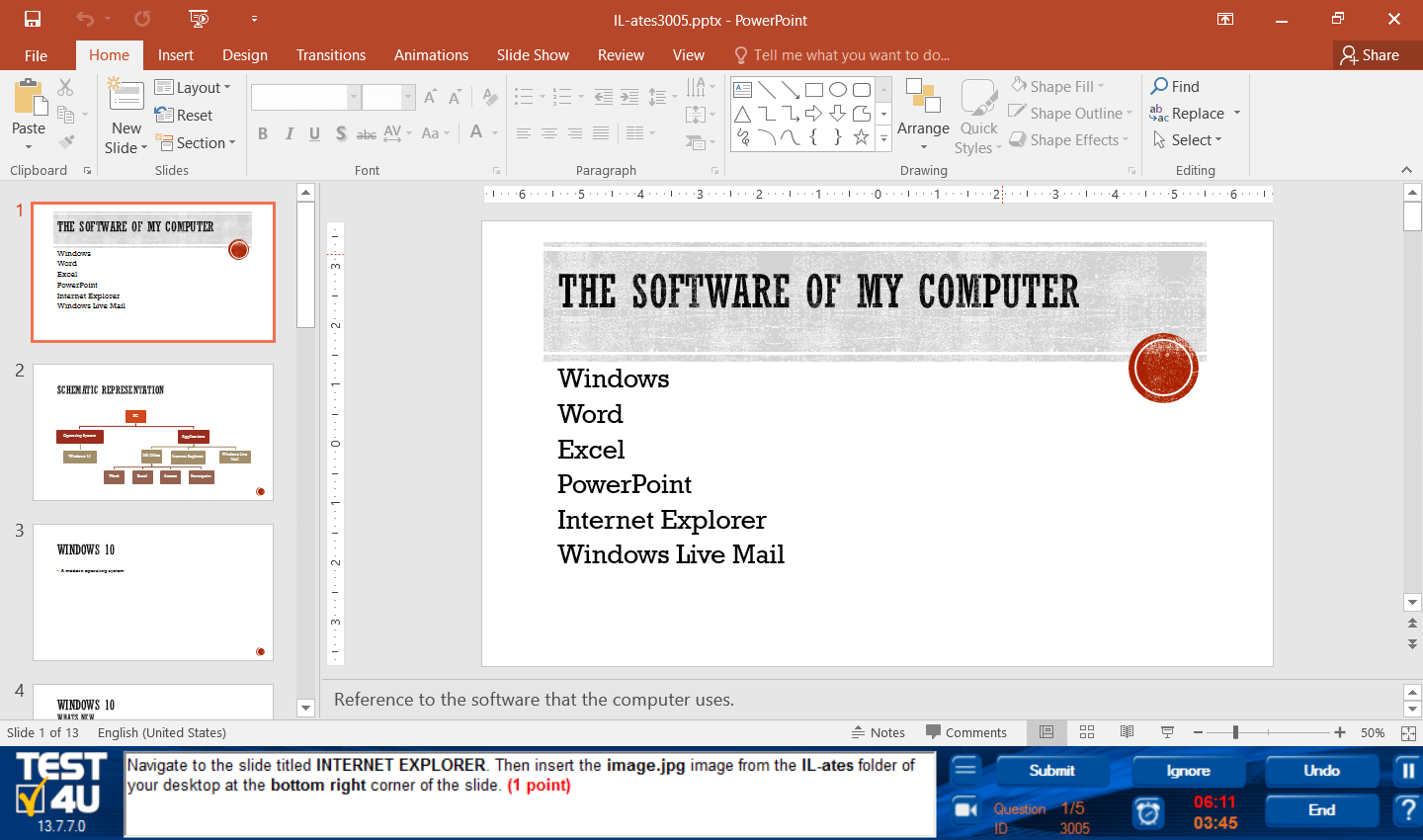 Per le imprese e i centri di formazione
Se il tuo lavoro è centrato sull'Istruzione in Informatica oppure sulla Valutazione delle Competenze d'Informatica, TEST4U è lo strumento perfetto! TEST4U è il più interattivo e popolare software per imparare Microsoft Office perché va ben oltre un semplice corso di e-learning. Gli studenti o i candidati sono assistiti nel consolidare tutto quello che hanno appena imparato e/o visto.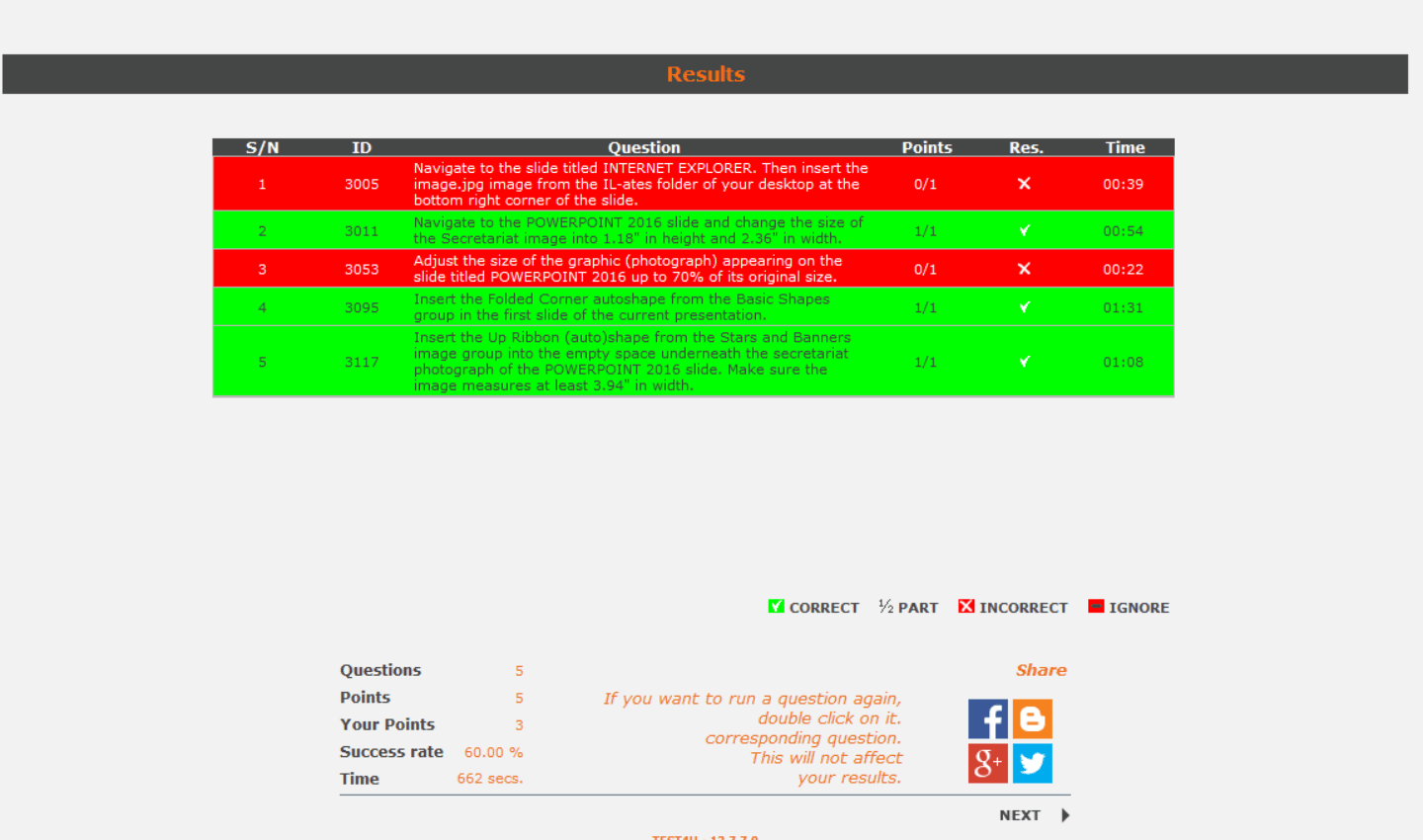 Cosa dicono di noi i nostri clienti
Che cosa offre TEST4U?
Il TEST4U sistema di Presentazione Full Standard ECDL/ICDL è uno strumento interattivo ricco di contenuti multimediali, in grado di ampliare le tue conoscenze di Microsoft PowerPoint, l'applicazione più famosa e flessibile per la creazione di diapositive, con la più ampia scelta di funzionalità.
TEST4U Test ti assisterà nel migliorare le tue competenze perché è costituito da:
197 Live in-ates Domande in diretta (IN-ATES: In Application Automated Test Evaluation System)
13 Domande in forma di quiz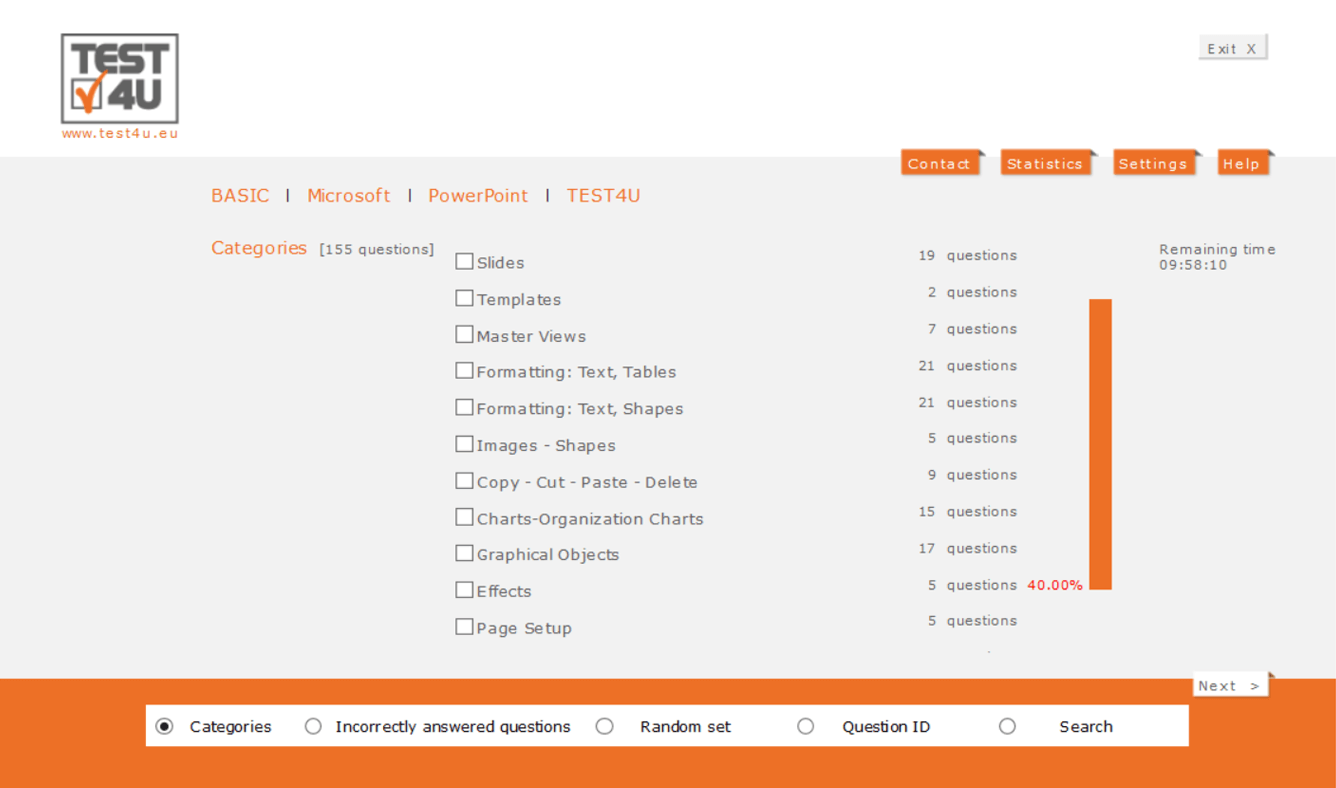 Invece di essere solo un'altra e-lezione comune con alcune domande a scelta multipla, TEST4U fa la differenza! Le domande incorporate richiedono attività reali. Per ogni domanda, ti viene chiesto di eseguire alcune azioni, che TEST4U valuterà. Molto simile alle effettive condizioni di lavoro: non puoi fare delle semplici ipotesi. Per rispondere correttamente, è necessario sapere veramente i percorsi validi per arrivare ai risultati richiesti.
Se la tua conoscenza di un argomento è circoscritta, puoi guardare le nostre video-soluzioni che ti guideranno passo dopo passo.
Nel caso in cui tu sia totalmente all'oscuro di Microsoft PowerPoint, ti proponiamo di guardare le video-soluzioni anche prima di esercitarti su TEST4U.
Una volta completato con successo il modulo Microsoft PowerPoint TEST4U, avrai appreso come lavorare con le diapositive, i modelli, gli schemi e le visualizzazioni principali. Inoltre avrai imparato a gestire il testo e le forme, a inserire grafici e oggetti SmartArt, ad applicare effetti speciali e molto altro. Anche se sei un utente esperto di una versione precedente di Microsoft PowerPoint, puoi cogliere l'occasione per aggiornare le tue conoscenze e competenze con la versione più recente di Powerpoint.
TEST4U incorpora tutti i nostri anni di esperienza di formazione e tecniche didattiche. Di conseguenza, TEST4U copre il 100% del programma di certificazione dell'ente di certificazione DIPLOMA (DIPLOMA Business Office e DIPLOMA Basic Office) e altri organismi di certificazione: ECDL/ICDL (nuovo profilo, core, start 5.0).
Test che contiene test ed esercizi per allenamento.
In caso di domande sulle quote di partecipazione (prezzo unitario), si prega di contattare uno dei centri di esame certificati dell'organismo di certificazione.
Ultimo aggiornamento: 24 Jul 2019
Requisiti minimi di sistema
CPU: Pentium® 4 (or newer)
RAM: 512ΜΒ +
Hard disk free space: 1-10GB
Minimum screen resolution: 1280x720 (size of text, apps and other items 100%)

Operating system: Windows XP / Vista / 7 / 8 / 8.1 / 10 (updated with newer service pack - Region Format: English (United States))
Internet Explorer: 7.0+
MS Office Powerpoint 2003, 2007, 2010, 2013 or 2016 - English Version (Fully Functional) must be installed - There must be only one version installed
Continuous Internet connection is required

Programma di studio
Questo prodotto copre il seguente programma. Puoi vedere le sezioni coperte e il numero di domande facendo clic su ciascuna scheda.

Controlla la qualità delle nostre domande Inserisci il tuo indirizzo e-mail qui sotto e ti invieremo immediatamente 55 domande