MO-400 Outlook Associate

Office 365 & Office 2019 - German version
Rely on TEST4U because it offers:
Variety - 242 exercises for MO-400 Outlook Associate
Training Hours - Purchase hours for practice according to your individual needs
Unlimited Tests - No limit to the times a question runs, unlike competitive software
Classification - Distinct subcategories ?
Feedback - Immediate evaluation of answers ?
Plenitude - It covers 100% the certification syllabus
Adequacy - Same environment as the exams'
Flexibility - Practice on any Computer
Updates - Access to updated version
TEST4U Outlook Associate (Office 365 and Office 2019): Exam MO-400
The new Microsoft Office Specialist Outlook Associate (Office 365 and Office 2019) Exam will soon be available, according to Certiport!
The new version of TEST4U for MO-400 Outlook Associate is ready and will be available once the Official Exam is released.
The new version of TEST4U is fully compatible with the new MO 400 Exam (Office 365 and Office 2019):
TEST4U covers 100% the Exam Objectives, so that you will be 100% ready to ace the Outlook Associate (Office 365 and Office 2019) Exam.
The TEST4U training and examination environment incorporates the multiple projects format that Certiport has adopted since the MOS 2016 Exams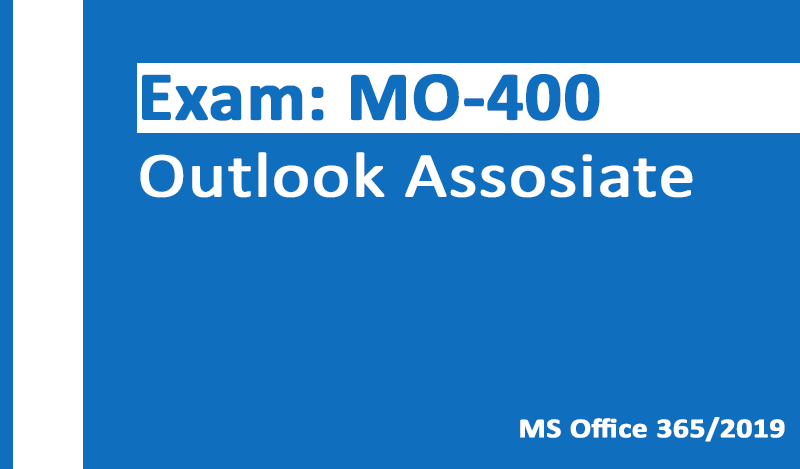 Outlook Associate MO-400 Exam
As Certiport has officially announced: "The Microsoft Certified Outlook Associate Certification demonstrates competency to customize the Outlook user interface format message content, create or insert graphic elements, and send and respond to emails and meeting requests. The exam covers the ability to enhance professional correspondence, create calendars, and schedule appointments. Application examples include coordinating building resources, sending messages for marketing campaigns, planning staff meetings, and assigning meeting action items.
An individual earning this certification has approximately 150 hours of instruction and hands-on experience with the product, has proven competency at an industry associate-level and is ready to enter into the job market. They can demonstrate the correct application of the principle features of Outlook and can complete tasks independently."
How to pass the Outlook Associate MO-400 Exam?
Trust the structured, exam-focused training that the TEST4U experienced instructors have formed.
TEST4U Training is designed to guide you step-by-step during your learning path:
Step 1. Find out your existing level of skills with the TEST4U Benchmark test.
Step 2. Train on the - 240 live, in application exercises for Outlook Associate MO-400 Exam.
Step 3. Take the TEST4U Final Assessment TEST to verify your exam readiness.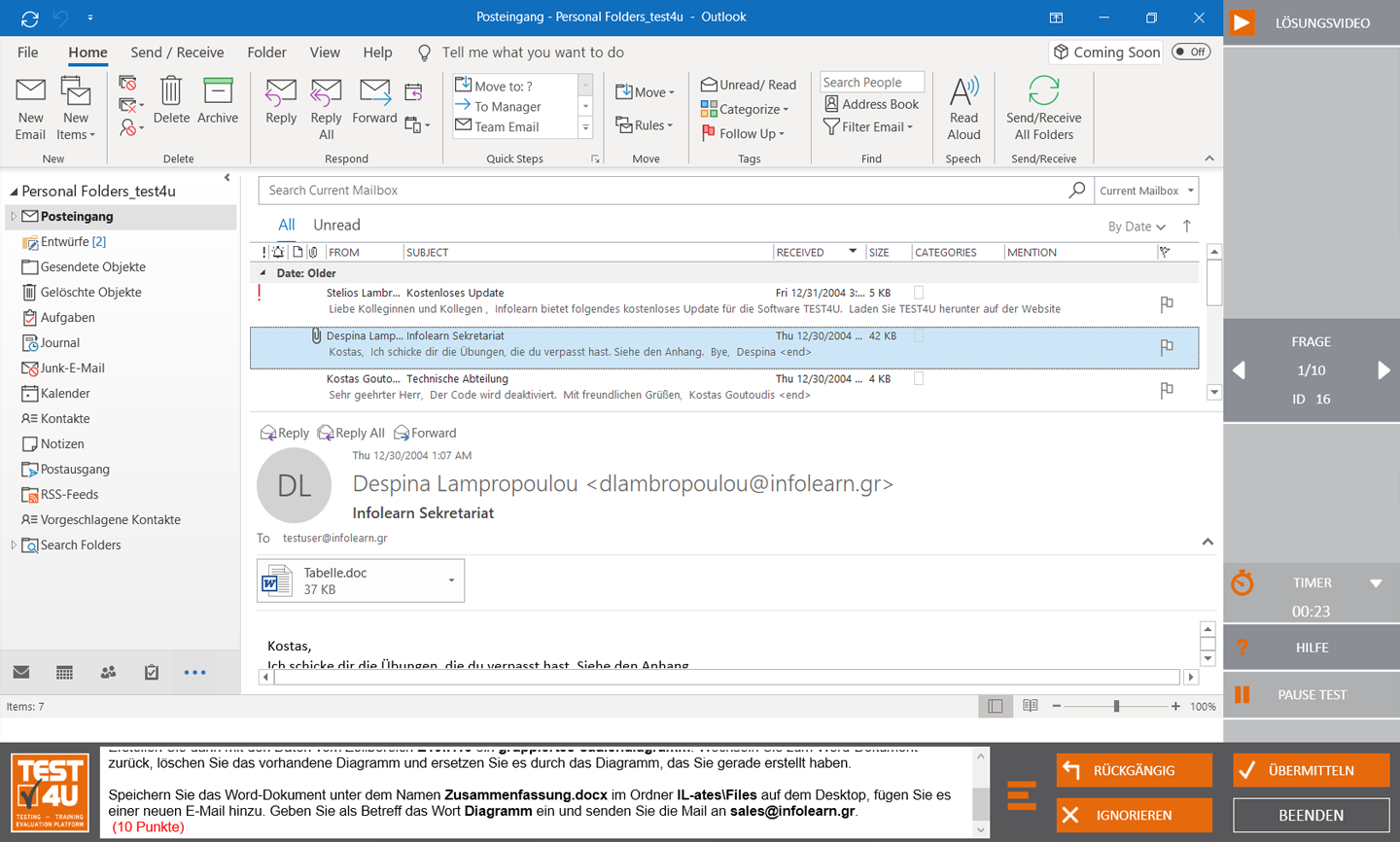 Certiport mentions that
"Microsoft Office Specialist Program certification exams use a performance-based format testing a candidate's knowledge, skills and abilities using the Microsoft Office 365 and Office 2019 programs:
Microsoft Office Specialist Program exam task instructions generally do not include the command name. For example, function names are avoided, and are replaced with descriptors. This means candidates must understand the purpose and common usage of the program functionality in order to successfully complete the tasks in each of the projects.
The Microsoft Office Specialist Program exam format incorporates multiple projects as in the previous version, while using enhanced tools, functions, and features from the latest programs."
Feel safe!
We have used our experience since 2003 and have taken all that into account before developing the new TEST4U Outlook Associate (Office 365 and Office 2019) Exam MO-400.
Cosa dicono di noi i nostri clienti
Is this the first time you are using TEST4U?
Once you find yourself into the TEST4U environment, you will realize that TEST4U is very different from other e-learning courses. TEST4U Outlook Associate (Office 365 and Office 2019) Exam MO-400 will let you actively participate in the learning process, instead of just watching a video-lesson accompanied by closed type questions.
The exams are performance-based, so the mere answering multiple choice questions is not helping you consolidate. You need to learn how to perform tasks and have instant feedback about how you did. This is why we have developed questions with actual tasks that you need to perform and guided step-by-step video solutions to demonstrate the right way to approach each question.
With TEST4U Outlook Associate (Office 365 and Office 2019) Exam MO-400 you will cover 100% all the Objective Domains:
Manage Outlook Settings and Processes
Manage Messages
Manage Schedules
Manage Contacts and Tasks
Even if you are an experienced user, you will upgrade your knowledge to the latest version of Microsoft Office.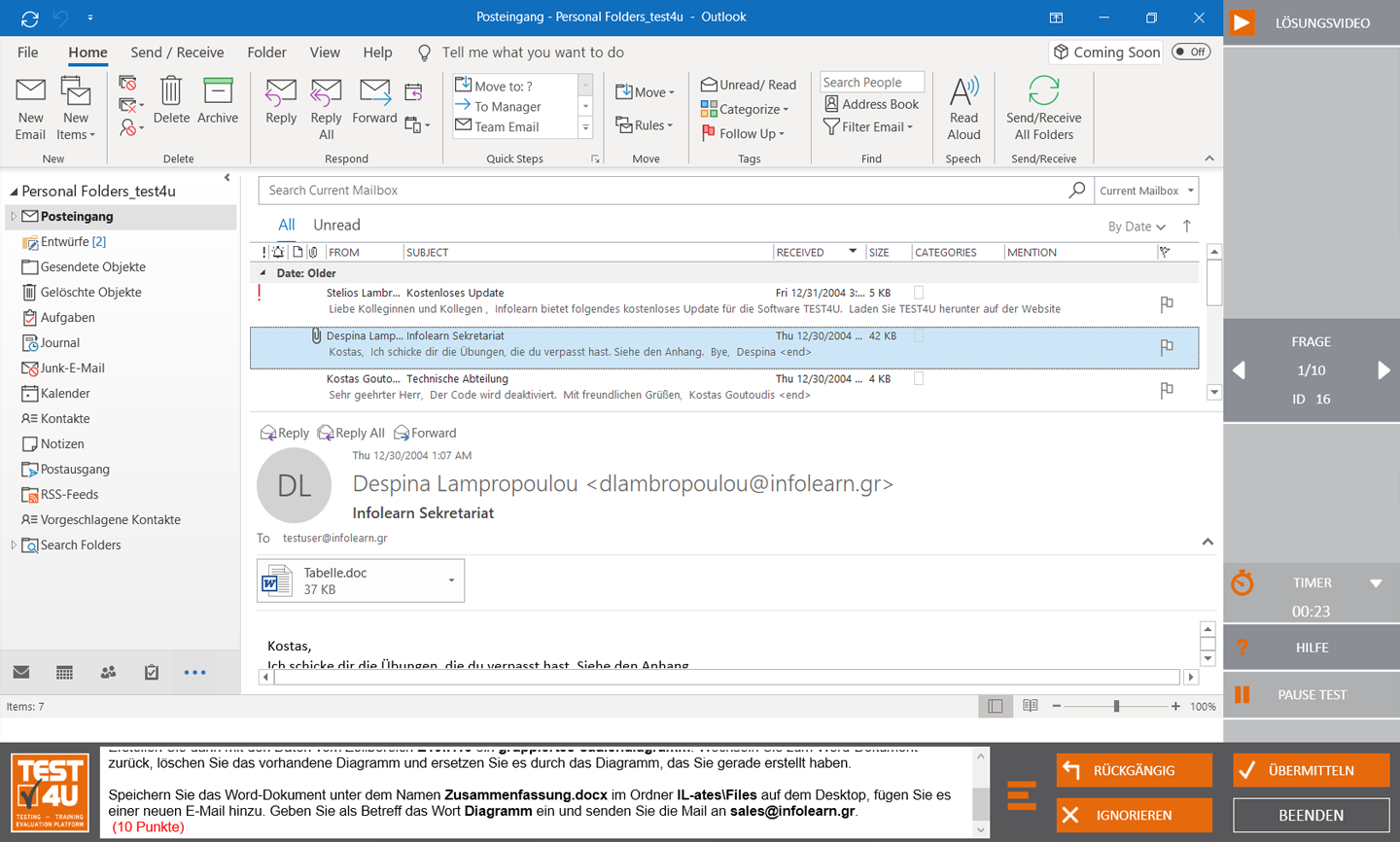 TEST4U is not another e-learning material. TEST4U is different.
We have incorporated our years of classroom training experience and teaching techniques in TEST4U, which results in TEST4U Outlook Associate (Office 365 and Office 2019) Exam MO-400 Test covering 100% the syllabus of Certiport Certification Body (Exam: MO 400).
TEST4U provides access to the latest updated version of the TEST4U module you selected, all features included (new questions, updates e.tc.).
Download the TEST4U Outlook Associate (Office 365 and Office 2019) Exam MO-400 Test which contains tests and exercises for practice.
More than 700.000 Candidates have trusted TEST4U for their exam preparation since 2003. Be the next one.
Ultimo aggiornamento: 25 Jul 2019
Requisiti minimi di sistema
CPU: Pentium® 4 (or newer)
RAM: 512ΜΒ +
Hard disk free space: 1-10GB
Minimum screen resolution: 1280x720 (size of text, apps and other items 100%)

Operating system: Windows 10 / 8.1 / 8 / 7 (updated with newer service pack - Region Format: German (Germany))
Internet Explorer: 7.0+
MS Office Outlook 365 or 2019 - German Version (Fully Functional) must be installed - There must be only one version installed
Continuous Internet connection is required

Programma di studio
Questo prodotto copre il seguente programma. Puoi vedere le sezioni coperte e il numero di domande facendo clic su ciascuna scheda.

Controlla la qualità delle nostre domande Inserisci il tuo indirizzo e-mail qui sotto e ti invieremo immediatamente 55 domande