TEST4U Microsoft Access 2013, 2010, 2007, 2003

German version
Rely on TEST4U because it offers:
Variety - 241 exercises for
Training Hours - Purchase hours for practice according to your individual needs
Unlimited Tests - No limit to the times a question runs, unlike competitive software
Classification - Distinct subcategories ?
Feedback - Immediate evaluation of answers ?
Plenitude - It covers 100% the certification syllabus
Adequacy - Same environment as the exams'
Flexibility - Practice on any Computer
Updates - Access to updated version
For individuals
Microsoft Access is an easy-to-use database application. Whether this is your first acquaintance with MS Access, or you have already been using it, you can maximize your productivity with TEST4U.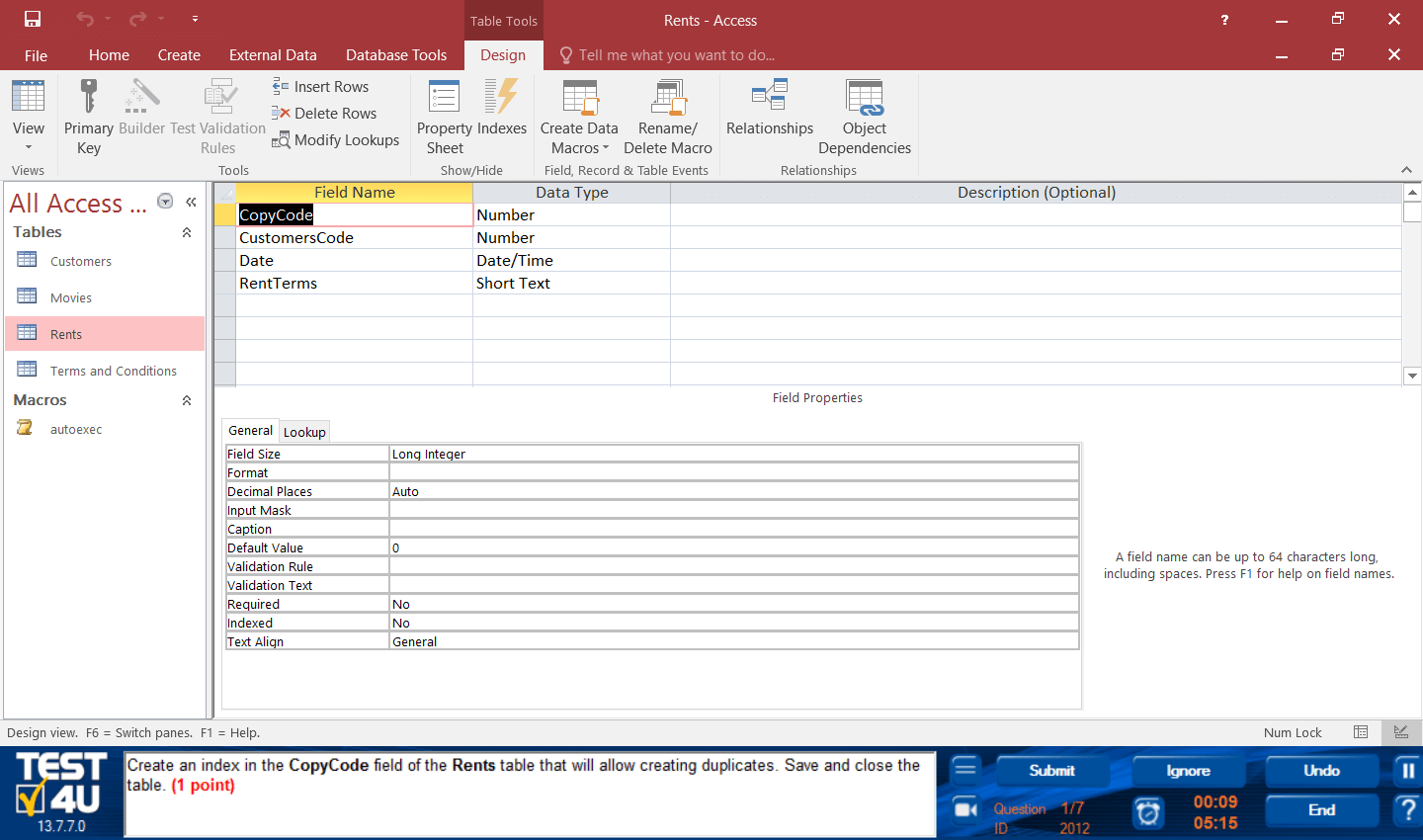 Cosa dicono di noi i nostri clienti
For Enterprises
If your job is about computer education, take the chance to enhance the services you provide! If you represent an educational institution, a business, or work as a public servant and you are interested in teaching the use of Microsoft Office Access at a basic level, then you should use the most popular learning program for office software.
What does TEST4U offer?
TEST4U Test is an interactive, highly customizable tool that meets your personal learning needs. During the media-rich TEST4U experience you will enhance your understanding of MS Access, the well-known database management system by Microsoft.
TEST4U Test ensures your learning result because it contains:
188 Live in ates Questions
53 Quiz Questions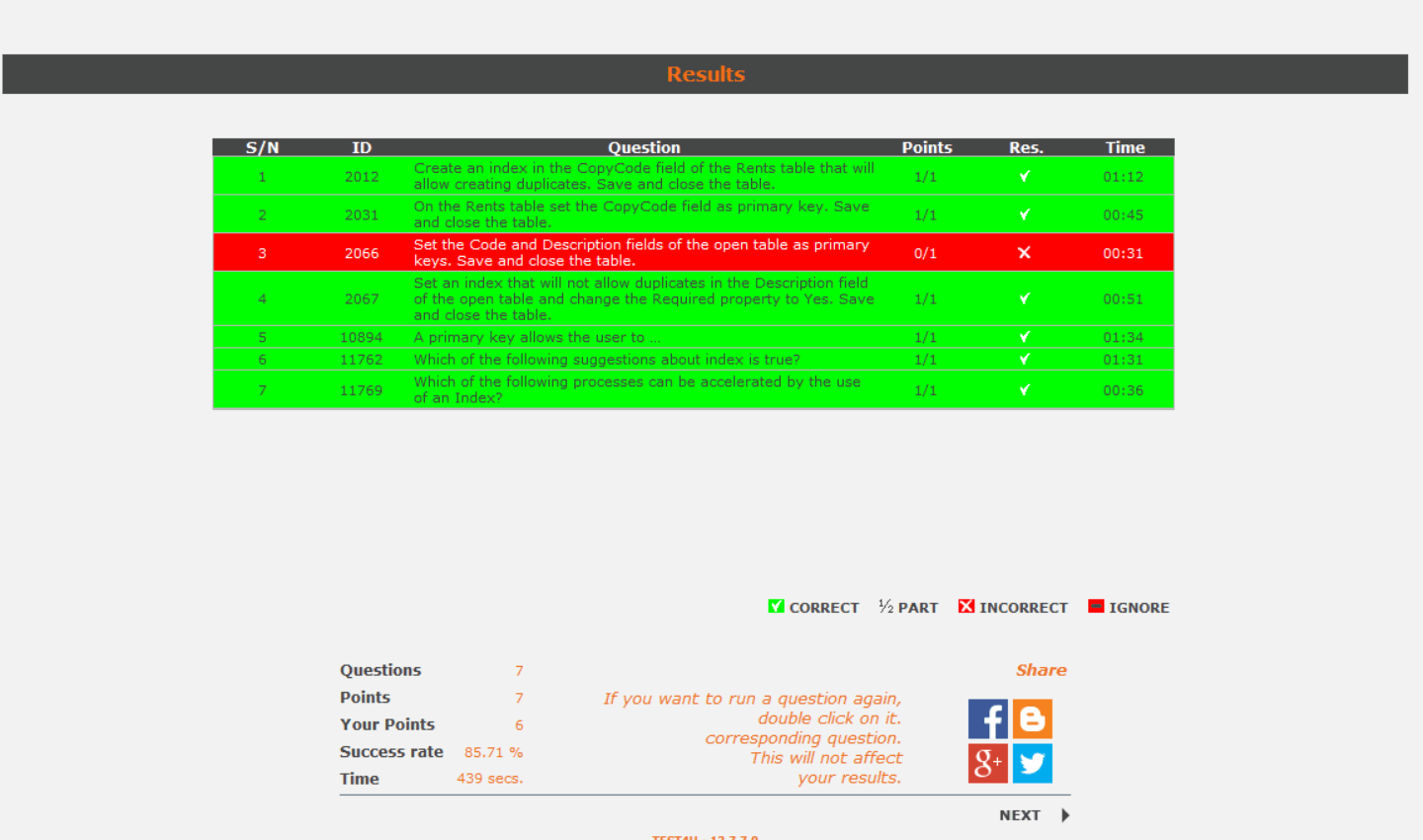 TEST4U Test will help you reinforce your learning by actually performing tasks, not by simply broadcasting some e-course accompanied by multiple choice questions. In case your knowledge of a topic is limited, you can watch our video-solutions which guide you step-by-step.
In case your MS Access level is beginner, we propose that, prior to practicing at TEST4U, you should watch our online video-lessons (e-courses).
Our MS-Access TEST4U Module will allow you to learn how to work with relationships, forms, main functions, queries, reports, record settings, along with basic settings, table designs e.tc. If you are an experienced user, you can upgrade your knowledge to the latest TEST4U MS-Access version.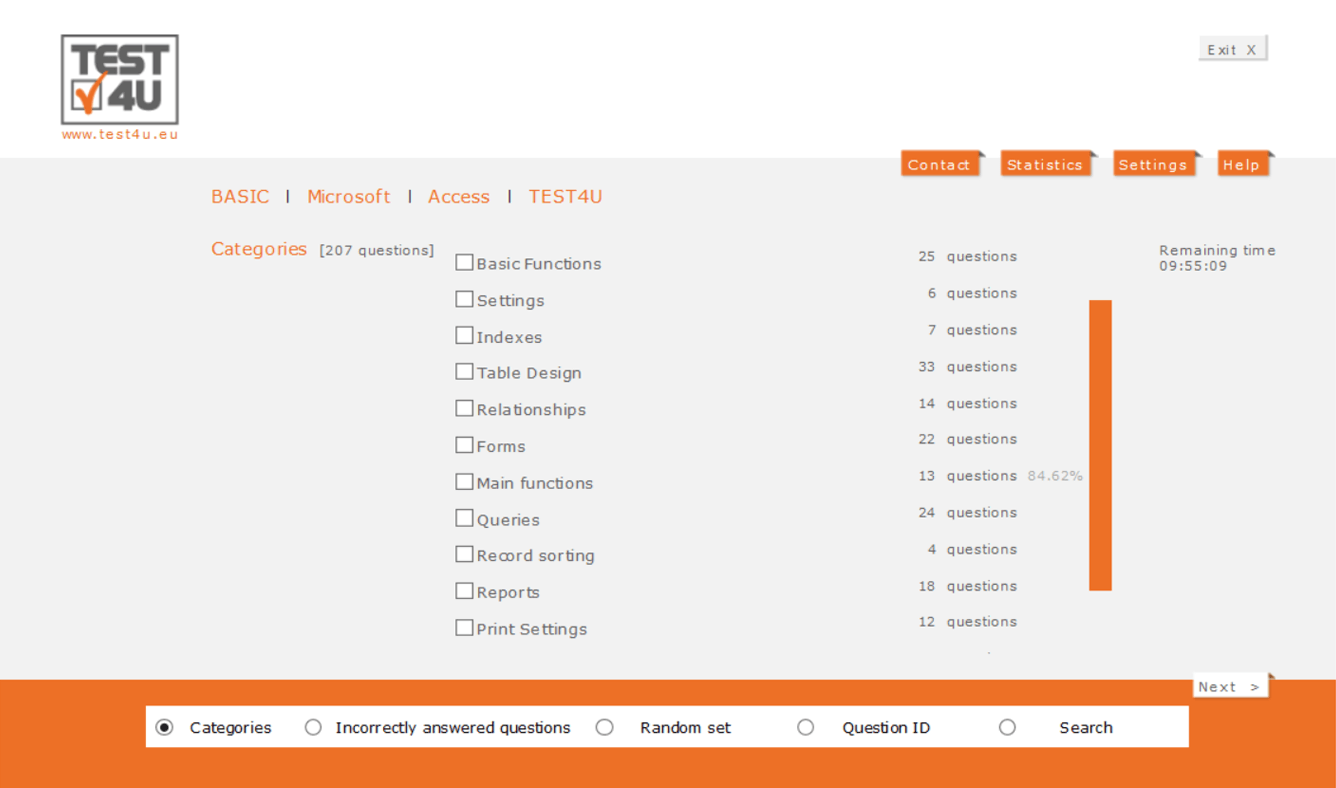 Our years of classroom training experience and teaching techniques have been incorporated in TEST4U. As a result, TEST4U covers 100% the syllabus of DIPLOMA Certification Body (DIPLOMA Business Office and DIPLOMA Basic Office) and other Certifications Bodies: Ecdl Icdl (new profile, core, start 5.0), Microsoft Infotest, Vellum Cambridge, Acta, Key-cert, ICT, Globalcert, Certiport MOS 2007 (Exam: 77-605).
Find out how TEST4U works: Test.
Ultimo aggiornamento: 24 Jul 2019
Requisiti minimi di sistema
CPU: Pentium® 4 (or newer)
RAM: 512ΜΒ +
Hard disk free space: 1-10GB
Minimum screen resolution: 1280x720 (size of text, apps and other items 100%)

Operating system: Windows XP / Vista / 7 / 8 / 8.1 / 10 (updated with newer service pack - Region Format: German (Germany))
Internet Explorer: 7.0+
MS Office Access 2003, 2007, 2010 or 2013 - German Version (Fully Functional) must be installed - There must be only one version installed
Continuous Internet connection is required

Programma di studio
Questo prodotto copre il seguente programma. Puoi vedere le sezioni coperte e il numero di domande facendo clic su ciascuna scheda.

Controlla la qualità delle nostre domande Inserisci il tuo indirizzo e-mail qui sotto e ti invieremo immediatamente 55 domande