We are very pleased to invite you to the LEARNTEC 2014 International Trade Fair. In addition we would like to take the opportunity to inform you about the application TEST4U, which is offered by our company.
If you wish to attend a more detailed presentation of this application, we will be happy to welcome you to the stand B70 of the LEARNTEC 2014 International Trade Fair, which will take place in Karlsruhe between 4 and 6 February 2014.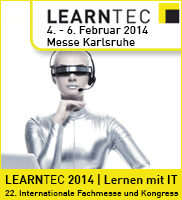 Find out the reason why more than 1.000 schools and more than 700.000 students have trusted TEST4U !
What is TEST4U?
TEST4U is an automated test which cooperates with the actual applications instead of flash simulation and can be used to:
prepare the students for certification examinations (e.g. ecdl)
train and assess employees
How does it work? 
TEST4U presents a question to the student and then it evaluates the student's answer. If the answer is correct, TEST4U moves on to the next question otherwise it shows a video clip with the correct answer.
For instance, at the actual Word application the student is asked to insert a photo in the open document at the right of the text.
TEST4U provides questions which demand multiple actions at many applications successively (e.g. create a chart at the actual Excel application, copy the chart to the actual Word application and send via e-mail the attached Word document.
In the case of HTML, CSS, JavaScript, PHP or MySQL the student is asked to develop and correct code and not just submit answers to multiple choice questions.
Which applications are supported?
Windows XP, Vista, 7, 8 • MS-Office, OpenOffice, LibreOffice • Word, Excel, PowerPoint, Access (basic & advanced level) • Internet Explorer, Outlook • Autocad (2D & 3D) • Joomla!, VirtueMart, Joom!Fish • HTML, CSS, JavaScript, PHP, MySQL.
Infolearn profile
Infolearn has been developing and promoting educational software and integrated certification systems.
It was founded in the city of Thessaloniki in 2003 and since then it has marked its place as high quality educational software developer.
Trusted by
700 000 Students
1000 Institutions
Infolearn has already contributed 

to the creation of 2 out of 9 certification bodies, which provide computer license certifications, recognized by the Greek state: DIPLOMA in 2009 and Key-cert in 2006.
TEST4U advantages
More than 6000 questions
More than 27 applications
A solution video for every question
100% real applications,
not flash simulations
Automated correction
Open Source Applications
Delivered more than
7.000.000.000 Questions
11 years of experience
Scenario and interapplicational questions
Instructor evaluation
Automated correction
Statistics illustrating student progress
Medals for the best students
No need of administrator rights
TEST4U records the student's
performance both in detail and aggregated so that you can be informed for their progress individually and in relation to the rest of the class.
The questions of each application are
categorized for targeted training (e.g. at Word: "Paragraph Formatting", "Tables" etc). TEST4U allows you to create your own set of questions from the existing ones (e.g. you can create a set of questions for the evaluation of the Secretariat's skills).
You can enrich TEST4U with your
own questions (available types of questions: multiple choice questions, text input questions, matching questions).